Share the post "Guru Huntress: She found 'Optimum Shooting Performance' at this school"

I had the opportunity of attending the Optimum Shooting Performance (OSP) School with eight other writers this past week. The OSP Shooting School is something that I have wanted to attend since May 2007 – two months after buying my over and under shotgun. I have spent numerous hours on the OSP website reading the shooting tips, frequently asked questions and absorbing other great information on there.
I purchased the book "If It Ain't Broke, Fix It" and read it at least three times. I guess you could say that I had OSP bug; and a severe case of it! When the invitation came by email, I don't think I read any further than the invite and I was on the phone reserving my spot. I could not have been any more excited if I had won a drawing. It was time to get the book down off the shelf and start practicing the OSP Flashlight Drill, which I coined the "Ash Light Drill."
Gil and Vicki Ash have been sporting clays enthusiasts since 1984. They founded and are the instructors of The Optimum Shooting Performance School. The dynamic duo has a unique approach to teaching a shooter how to be a successful shooter. Their coaching methods are blended with common sense and humor, which not only makes a shooter understand the technique in a logical way but also puts them at ease.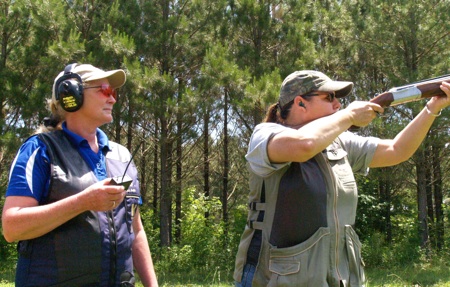 Vicki Ash stands behind Nancy Jo Adams on the line.
The foundation of the OSP method is built on proper gun mount and timing. To be precise on timing they teach the importance of knowing the three vital points of your target's intended flight: the focal point, the hold point and the break point. The concept of knowing those three defined points removes conscious lead of a target.
The first thing that became blatantly clear to me is that when you keep your focus on the target and use a slow, methodic mount, the target seems to slow down. I know you are thinking, "That just is not possible." I thought that too when I read it in their writings. I experienced it firsthand and I am now a believer.
I experienced a marked improvement on the range during my time under the coaching and watchful eye of Vicki Ash. I walked away with a game plan to improve my shooting on the sporting clays range; along with a renewed confidence. I know that the OSP School will benefit not only all skill levels of shooters, but especially those that have problems in targeted areas of their shooting performance.
Gil and Vickie Ash hold numerous seminars, clinics, and individual instructions across the United States annually. They have co-authored several books and produced numerous DVDs that are available from their website at www.ospschool.com.  You will also find a plethora of valuable information on the OSP website that will help you improve your performance in shooting sports. ~Nancy Jo Adams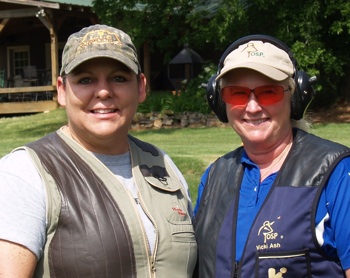 Nancy Jo Adams and Vicki Ash. At last, Nancy Jo meets one of her favorite outdoor women, who becomes her mentor!
Disclaimer: The WON • This publication receives payment for advertising. • This publication reviews products and provides editorial copy (like all other major publications) because of advertising sold. It does not guarantee a positive review of such products. • If our freelance writers do not pay a full retail price for a product being reviewed, from Feb. 11, 2015, forward, they will explicitly state that in the review. • Unless explicitly stated, any writers at The WON have no affiliation or relationship with the supplier of a product being reviewed. • We generally follow the "if you can't say something nice, say nothing" rule. If we review a product and don't like it, we will either offer constructive criticism as to how to improve said product in print, or we will refuse to review it.
Our privacy policy: At Women's Outdoor News, The WON, we only collect your email address for newsletter subscription purposes or for giveaway opportunities. You may opt out at any time if you decide you don't want to receive the newsletter any longer. We never sell or give your private information to any other party. Not to our advertisers, friends or family. No one gets it. Ever.
Women's Outdoor News, The WON, contains intellectual property owned by Women's Outdoor News, The WON, including trademarks, trade dress, copyrights, proprietary information and other intellectual property. You may not modify, publish, transmit, participate in the transfer or sale of, create derivative works from, distribute, display, reproduce or perform, or in any way exploit in any format whatsoever any of the Women's Outdoor News, The WON content, in whole or in part without our prior written consent. We reserve the right to immediately remove your account and access to Women's Outdoor News, The WON, including any products or services offered through the site, without refund, if you are caught violating this intellectual property policy.