Share the post "Magnolia Defense Enterprises launches new website"
CONYERS, GA – Certified NRA instructor Melita Ellington, founder of Magnolia Defense Enterprises, LLC, launched the company's new website recently and sets her sights on developing additional class locations in the metro-Atlanta area.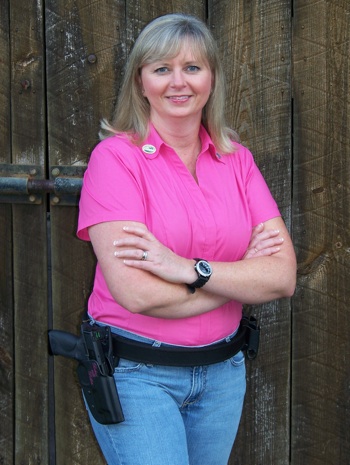 "In today's cyber-marketplace, it's the way we search for information when we need it.  It was an obvious step for my company as we try to provide firearms training services for women," remarked Ellington.
Ellington founded Magnolia Defense in 2009 after seeing a need for more women's firearms training programs in metro-Atlanta.  She is NRA-certified to teach basic pistol, Refuse To Be a Victim™ personal safety, and will soon receive certification to teach the NRA shotgun course, as well.  While class sizes are kept small to maintain a level of safety, Ellington believes that as a woman, she has much to offer other women who want to learn firearm safety and basic skills. Her husband, Brian, also an NRA-certified instructor, assists at each class.
"For a woman, picking up a handgun for the first time can be a very daunting experience.  I've been there, so I know.  I want women to know that there's someone to help them overcome whatever obstacles may stand between them and learning to use a firearm," said Ellington.  "I believe that knowledge is power, and personally, I'd much rather take a course to learn something than have to learn it in an emergency situation.  That's one of the reasons I'm teaching."
For further information on taking a ladies' NRA First Steps class, or Magnolia Defense Enterprises, contact Ms. Ellington at magnoliadefense@gmail.com or  go to www.magnoliadefense.com.
Melita also contributes gear reviews at The WON's Gear Court.
Disclaimer: The WON • This publication receives payment for advertising. • This publication reviews products and provides editorial copy (like all other major publications) because of advertising sold. It does not guarantee a positive review of such products. • If our freelance writers do not pay a full retail price for a product being reviewed, from Feb. 11, 2015, forward, they will explicitly state that in the review. • Unless explicitly stated, any writers at The WON have no affiliation or relationship with the supplier of a product being reviewed. • We generally follow the "if you can't say something nice, say nothing" rule. If we review a product and don't like it, we will either offer constructive criticism as to how to improve said product in print, or we will refuse to review it.
Our privacy policy: At Women's Outdoor News, The WON, we only collect your email address for newsletter subscription purposes or for giveaway opportunities. You may opt out at any time if you decide you don't want to receive the newsletter any longer. We never sell or give your private information to any other party. Not to our advertisers, friends or family. No one gets it. Ever.
Women's Outdoor News, The WON, contains intellectual property owned by Women's Outdoor News, The WON, including trademarks, trade dress, copyrights, proprietary information and other intellectual property. You may not modify, publish, transmit, participate in the transfer or sale of, create derivative works from, distribute, display, reproduce or perform, or in any way exploit in any format whatsoever any of the Women's Outdoor News, The WON content, in whole or in part without our prior written consent. We reserve the right to immediately remove your account and access to Women's Outdoor News, The WON, including any products or services offered through the site, without refund, if you are caught violating this intellectual property policy.