I love many different genres of music, but the kind I relish in the most are the songs that tell a lesson in life story.  Country music artist Trace Adkins has released a new song called "Just Fishin'." The story behind that song is about when taking your kids fishing, there's so much more they'll gain from the experience than "Just Fishin'."  It's a memory that will stay with them for the rest of their lives, and chances are, they will not even realize it at the time.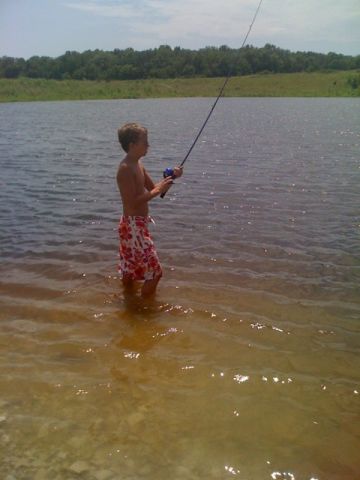 My grandson, Waylen, just fishin'. Photo courtesy of Tammy Ballew.
Fishing is an excellent way to introduce youth to the outdoor world.  It can be done as a family or one-on-one.  It's a great way to spend an afternoon or evening, idling throwing out a line and being mesmerized by a dancing bobber on the water.  Or there's the beauty of an early morning fishing trip, watching the sun lazily rise up out of a good night's sleep and the fog gently rolling off the water, like folding a blanket up and putting it away for the day.
There's always the different birds and singing insects you can try to distinguish and name, either by sight or sound.  At the water's edge, usually there are crawdads or frogs or snails to captivate the adventurer's attention when the fish aren't biting.
It's a perfect time for telling your own fishing tales or even just conversing about any subject that comes up.  It's also a good time for listening.  I'm amazed at how much more I hear when my mouth is closed.
So the next time you decide to take a child or grandchild fishing, know that that memory, as Trace says, is "gonna be a big 'un," and they'll think you're "Just Fishin'."