Tammy Ballew
After years and years in existence, the bandana is as useful today as it was at its inception.  There have been new versions and thousands of colors and designs over the years, but the basic bandana hails a solid reign over all.  The bandana's uses are countless. I'll list a few for you:
On a recent motorcycle trip up into Canada from Missouri, I found several ways to utilize my bandanas along the way.  In fact, I bought a couple extras to take on the trip.  I like folding them up to form a headband and wrap around my heard to wear under my helmet.  This helps to hold the fine hair across my forehead in place to alleviate my hair twisting in the wind.  They also work well as a dewrag to wear in place of a helmet in the no-helmet states, should you choose not to wear the extra protection.
As we got up into Canada, some of our early morning riding was in cooler temperatures.  The bandana tied around my neck enabled me to stay warm and comfortable.  On the flip side, when the Missouri and Iowa temperatures soared into the three-digits, the bandana dipped in water was very cooling to wear around my neck.  My husband was glad I had packed a few additional, because he used them as neck wraps too.
They also work great for tying up an easy-to-reach snack when traveling down the road on a motorcycle.  (Not that I did any snacking!)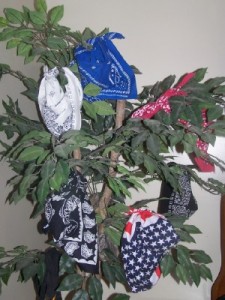 The Bandana Tree: Bass Pro bandana to wear when bass fishing, Friends of NRA Patriotic bandana and a camo bandana are a few among my arsenal. Photo courtesy of Tammy Ballew.
The bandana is very simple, but extremely useful, and it still holds a country charm about it.  I visualize red bandanas and county fairs and hay bales when I think of them.
I hope you'll share some of your ideas with us here at The WON on creative uses of the incredible (but not so edible) bandana.
There's a camo bandana in this photo, and I will send a free camo bandana to the first reply I receive that has spotted it.
Bandana Girl -- Here's Lauren ... daughter of Beth Cowgill of Sass, Brass and Bullets' blog fame. Photo by Beth Cowgill.