Share the post "Shoot to Thrill: Yamil Sued … on rain and dust and what's a must"
After over 26 years behind the camera, I have learned one thing: weather doesn't always cooperate. Some assignments can be scheduled according to weather, but some can't. Some events are scheduled months in advance and photographers need to be prepared for all types of weather. This is where experience and ingenuity come in.
Packing for a trip
My packing process is simple, but thorough. I usually pack more than I need, but guess what … it doesn't hurt! The last thing you want is to run out of clean clothes while on location. Pack for all possible kinds of weather.  I have been on trips where weather changes from the mid 30s to the mid 80s in one week. Always bring rain gear.
Speaking of rain gear, one of my favorite pieces of gear is the Rain Sleeve.  This is the coolest gizmo I have ever used!!  Yes, there are more expensive products out there made specifically for rain protection, some costing up to $200.  At this website, the Rain Sleeve runs under $7 for a two-pack.
I remember Tulsa, Okla., in 2008. I shot half of the USPSA Nationals virtually underwater.  The Rain Sleeve saved my shoot and my gear.
Bob Vogel. Photo by Yamil R. Sued.
Not only for Rain …
The Rain Sleeve is not only for rain. I live in Phoenix, Ariz. It doesn't rain much in the desert, but it's dusty! I use the Rain Sleeve in a slightly different way in dusty situations. The rain sleeve comes with a handy nylon drawstring that nicely tightens the plastic sleeve around your lens. In dusty situations, I actually use gaffer's tape to seal the bag around the lens; this gives me a nice, sealed dust protection. The Rain Sleeve is disposable, too. So, after your event or trip, just throw it away. Heck, the Rain Sleeve is so good, it's even and effective protection against "carp juice!"
Visit Yamil Sued's website to see more superb photography.
Editor's note: We appreciate that you read the WON, Yamil, and hey … we want you along on our next Carp Caper, Buddy. Just bring a lot of Rain Sleeves, OK?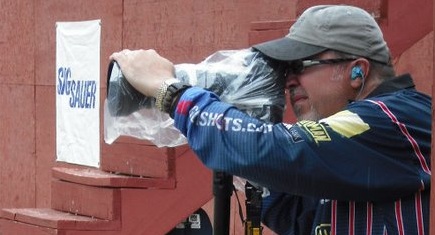 Yamil R. Sued, on location at the Bianchi Cup match in Columbia, Mo., 2011. Photo by Dustin Pluth.
Disclaimer: The WON • This publication receives payment for advertising. • This publication reviews products and provides editorial copy (like all other major publications) because of advertising sold. It does not guarantee a positive review of such products. • If our freelance writers do not pay a full retail price for a product being reviewed, from Feb. 11, 2015, forward, they will explicitly state that in the review. • Unless explicitly stated, any writers at The WON have no affiliation or relationship with the supplier of a product being reviewed. • We generally follow the "if you can't say something nice, say nothing" rule. If we review a product and don't like it, we will either offer constructive criticism as to how to improve said product in print, or we will refuse to review it.
Our privacy policy: At Women's Outdoor News, The WON, we only collect your email address for newsletter subscription purposes or for giveaway opportunities. You may opt out at any time if you decide you don't want to receive the newsletter any longer. We never sell or give your private information to any other party. Not to our advertisers, friends or family. No one gets it. Ever.
Women's Outdoor News, The WON, contains intellectual property owned by Women's Outdoor News, The WON, including trademarks, trade dress, copyrights, proprietary information and other intellectual property. You may not modify, publish, transmit, participate in the transfer or sale of, create derivative works from, distribute, display, reproduce or perform, or in any way exploit in any format whatsoever any of the Women's Outdoor News, The WON content, in whole or in part without our prior written consent. We reserve the right to immediately remove your account and access to Women's Outdoor News, The WON, including any products or services offered through the site, without refund, if you are caught violating this intellectual property policy.