Share the post "Gear Court: Shelley Rae gives the 'Boot Campaign' her support"
A couple of our local ranges have been nicknamed "mud pits" for what the ground becomes in the rainy Seattle winter. While my trail runners work well for shooting USPSA in the summer, having a pair of "Give Back" boots from the Boot Campaign saves me much grief during the colder months.
The Boot Campaign is run by five Texan women; a portion of every pair of boots purchased is donated to a variety of charities that support veterans. Not only do I have an excellent pair of Desert Tan ALTAMA boots [$129.99], but I was able to support veterans and a strong group of women who have dedicated themselves to an excellent cause.The boots are warm and water resistant. Even diving through the mud at the local ranges, I find that these boots have never failed to keep my feet warm and dry. The mil spec Vibram sole has proven to have excellent traction in mud and dirt alike. The boots are light enough for quick movement and provide enough support to be used all day on hard ground.
I've used my Boot Campaign "Give Back" boots in practical pistol shoots, where even in the mud they have provided the traction necessary while still allowing me to move quickly through the course of fire.  They have also served me well on back country hiking and horseback riding trips – where they have been put through their paces and held up to some of the most extreme conditions: everything from snow to desert sun.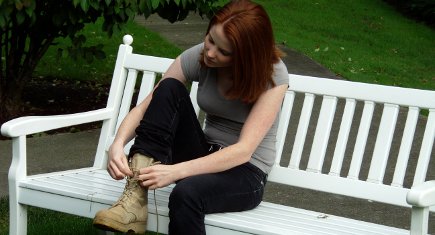 A new Boot Girl in the making? Photo by Caleb Giddings.
In fact, the only complaint I have for the "Give Back" boots is that the break-in period was far from pleasant. When the boots first arrived, I had to wear them for a couple weeks before they ceased to be painful on my feet. While this is normal for combat boots, it's not a lot of fun, and is something any purchaser should be prepared to go through.
The versatility of these boots through different conditions is almost as impressive as their day-long comfort.  There are not many shoes I can wear in a day of work at West Coast Armory that can withstand the several miles of walking across cement and send me home with happy feet. The "Give Back" boots have made the short list of footwear I'm willing to suffer through the workday with, and for over a year these boots have served me well as work boots, play boots and any activities in between. If you're looking for good pair of boots that can handle a wide variety of conditions (and care to donate to a good cause during the course of your purchase) you can find my ALTAMAs along with variety of other boots for sale at the Boot Campaign's website.
Shelley Rae in her Altamas. Photo by Caleb Giddings.
Disclaimer: The WON • This publication receives payment for advertising. • This publication reviews products and provides editorial copy (like all other major publications) because of advertising sold. It does not guarantee a positive review of such products. • If our freelance writers do not pay a full retail price for a product being reviewed, from Feb. 11, 2015, forward, they will explicitly state that in the review. • Unless explicitly stated, any writers at The WON have no affiliation or relationship with the supplier of a product being reviewed. • We generally follow the "if you can't say something nice, say nothing" rule. If we review a product and don't like it, we will either offer constructive criticism as to how to improve said product in print, or we will refuse to review it.
Our privacy policy: At Women's Outdoor News, The WON, we only collect your email address for newsletter subscription purposes or for giveaway opportunities. You may opt out at any time if you decide you don't want to receive the newsletter any longer. We never sell or give your private information to any other party. Not to our advertisers, friends or family. No one gets it. Ever.
Women's Outdoor News, The WON, contains intellectual property owned by Women's Outdoor News, The WON, including trademarks, trade dress, copyrights, proprietary information and other intellectual property. You may not modify, publish, transmit, participate in the transfer or sale of, create derivative works from, distribute, display, reproduce or perform, or in any way exploit in any format whatsoever any of the Women's Outdoor News, The WON content, in whole or in part without our prior written consent. We reserve the right to immediately remove your account and access to Women's Outdoor News, The WON, including any products or services offered through the site, without refund, if you are caught violating this intellectual property policy.