Share the post "Shoot to Thrill: Yamil Sued on … inclement weather and the photographer"
On my last blogpost, I discussed how to protect your gear in rain and dust.  But what about yourself? How do you protect yourself from not-so-nice weather?
I just got home from the IDPA World Shoot in Frost Proof, Fla. It was hot, humid and it rained "Cats & Dogs" every afternoon. How do we prepare to protect ourselves from weather?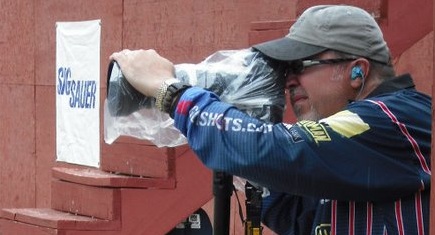 Yamil R. Sued, on location at Bianchi Cup match in Columbia, Mo., 2011. Photo by Dustin Pluth.
Sure, pack a raincoat. That should be enough, right? Well, yes and no. You have to look deeper than a simple rain coat. What do I pack with for my matches??
Step #1
Weather??  Look at the forecast. This is the first step in preparing.
Step #2  … what to pack
Rain Gear: I buy tons of the disposable rain coats, these are fairly good and you can pack several in your backpack.
Sun block:  Always carry sun block. OK, OK I hate to spread gunk on my body and I don't use it enough. But, it is a good idea to use it.
Clothing: Shirts, I always try to wear Long Sleeve Polyester shirts from Gimini Sports Marketing; they protect me from the sun and they "breathe."  This is great for hot and humid weather.
Pants: I like the Woolrich Elite lightweight pants. These are comfortable and very good with hot and humid weather.  Lots of storage for photo junk and other stuff you might want to bring with you in the field.
Underwear:  YUP. It does make a GIGANTIC difference. Under Armour Original with nine-inch inseams happen to be my best friend in the field. When pulling a 16-hour day on the range, in ANY weather condition, this is a must. [Editor's note: We've been known, at The WON, to wear Under Armour boxer briefs for men in the field while hunting, but check out all the Under Armour underwear options for women, now available online!]
Photographer Yamil Sued's bag ... ready to go. Photo by Yamil Sued.
Gear Bags:  Not all bags are made equal. I prefer Think Tank Photo bags. These bags are made for photographers, by photographers. Talk about weather protection, lightweight and sturdy.  IMHO, these are the best bags in the market today. I use them every day and I ride them hard.
Food and Drink:  First and foremost, hydrate, hydrate, hydrate! I can't say that enough!!  I carry healthy protein bars, and Propel water packets or Gatorade G2 Packets with me on every job.  You can't always carry G2 or Propel with you on every trip, but you can always find a bottle of water to mix the Packets. The protein bars or healthy snacks keep you going on long days at the Range or whatever outdoors activity you undertake.
Baby Wipes/Antiseptic Wipes:  Have you noticed that there is rarely a place to wash your hands at many shooting ranges or in the field? Not to mention that porta-potties aren't the most antiseptic places on earth. These wipes come in different sizes, I usually buy the large bulk pack and package a smaller quantity in a Ziploc® bag to carry with me in the field.
Tierani Hendrix won the High Lady title at the International Defensive Pistol Association 2011 World Championship. Photo by Yamil Sued.
There are more travel tips to be shared. Catch my post next month and I'll share a few more travel tips. If you have any tips to share, please comment here at The WON. I love to learn new tips that will help me on my trips.
Check out Yamil Sued's photography.
Disclaimer: The WON • This publication receives payment for advertising. • This publication reviews products and provides editorial copy (like all other major publications) because of advertising sold. It does not guarantee a positive review of such products. • If our freelance writers do not pay a full retail price for a product being reviewed, from Feb. 11, 2015, forward, they will explicitly state that in the review. • Unless explicitly stated, any writers at The WON have no affiliation or relationship with the supplier of a product being reviewed. • We generally follow the "if you can't say something nice, say nothing" rule. If we review a product and don't like it, we will either offer constructive criticism as to how to improve said product in print, or we will refuse to review it.
Our privacy policy: At Women's Outdoor News, The WON, we only collect your email address for newsletter subscription purposes or for giveaway opportunities. You may opt out at any time if you decide you don't want to receive the newsletter any longer. We never sell or give your private information to any other party. Not to our advertisers, friends or family. No one gets it. Ever.
Women's Outdoor News, The WON, contains intellectual property owned by Women's Outdoor News, The WON, including trademarks, trade dress, copyrights, proprietary information and other intellectual property. You may not modify, publish, transmit, participate in the transfer or sale of, create derivative works from, distribute, display, reproduce or perform, or in any way exploit in any format whatsoever any of the Women's Outdoor News, The WON content, in whole or in part without our prior written consent. We reserve the right to immediately remove your account and access to Women's Outdoor News, The WON, including any products or services offered through the site, without refund, if you are caught violating this intellectual property policy.