Share the post "Brenda Valentine and SWEET Talk in season this season"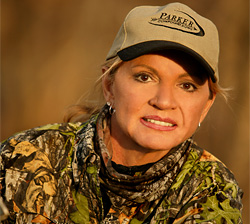 In a press release issued by Commando Hunting Products regarding Brenda Valentine's designed and endorsed friction call, the SWEET Talk, Brenda said, "Maintaining my integrity in the outdoor industry is very important to me and I have always been careful about allowing my name to be used as an endorsement for any product. I wanted a call that was so versatile it would eliminate the need for carrying multiple calls. The combo slate and glass gives me that versatility.  This is the first signature series call I ever been confident in enough to add my name to. Commando Hunting Products has earned my respect and a place in my turkey vest!"
She endorsed it. Brenda Valentine's own call.
Brenda and the crew from Commando pulled out several SWEET Talk calls at a Women's Seminar (which also had several children and men as guests!) during the 2012 National Wild Turkey Federation's Convention and Sport show, held in Nashville, Tenn. Sponsored by Women's Outdoor News, this seminar by Brenda featured turkey hunting tips — from what to wear to what to carry and how to call. She also, in typical Valentine fashion, moved the seminar along at a fast and funny pace.
According to Commando,
The Two-Sided Sweet Talk Friction Call is produced from No.1 select hard maple. The density and tight grain of the hard maple allows Sweet Talk to emit a high-pitched raspy sound with very little effort. Flip the Sweet Talk over and the bottom sound board doubles as an additional striking surface that emits a deeper tone that is perfect for soft calling. The one-piece purple heart flare tip striker produces a break over yelp with ease and purrs, putts and clucks that are worthy of any champion caller! The Sweet Talk friction call was designed in conjunction with Brenda Valentine and is manufactured in the U.S.A. by Commando Hunting Products on a state-of-the art three dimensional CNC machining center. The repeatability of the manufacturing process enables each and every Sweet Talk friction call to produce championship sound quality.
It weighs .08 pounds and retails for $40. Visit Commando Hunting Products online.
Disclaimer: The WON • This publication receives payment for advertising. • This publication reviews products and provides editorial copy (like all other major publications) because of advertising sold. It does not guarantee a positive review of such products. • If our freelance writers do not pay a full retail price for a product being reviewed, from Feb. 11, 2015, forward, they will explicitly state that in the review. • Unless explicitly stated, any writers at The WON have no affiliation or relationship with the supplier of a product being reviewed. • We generally follow the "if you can't say something nice, say nothing" rule. If we review a product and don't like it, we will either offer constructive criticism as to how to improve said product in print, or we will refuse to review it.
Our privacy policy: At Women's Outdoor News, The WON, we only collect your email address for newsletter subscription purposes or for giveaway opportunities. You may opt out at any time if you decide you don't want to receive the newsletter any longer. We never sell or give your private information to any other party. Not to our advertisers, friends or family. No one gets it. Ever.
Women's Outdoor News, The WON, contains intellectual property owned by Women's Outdoor News, The WON, including trademarks, trade dress, copyrights, proprietary information and other intellectual property. You may not modify, publish, transmit, participate in the transfer or sale of, create derivative works from, distribute, display, reproduce or perform, or in any way exploit in any format whatsoever any of the Women's Outdoor News, The WON content, in whole or in part without our prior written consent. We reserve the right to immediately remove your account and access to Women's Outdoor News, The WON, including any products or services offered through the site, without refund, if you are caught violating this intellectual property policy.