Brenda Valentine and SWEET Talk in season this season
Share the post "Brenda Valentine and SWEET Talk in season this season"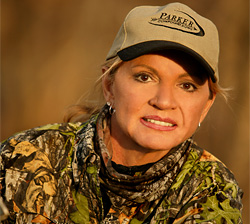 In a press release issued by Commando Hunting Products regarding Brenda Valentine's designed and endorsed friction call, the SWEET Talk, Brenda said, "Maintaining my integrity in the outdoor industry is very important to me and I have always been careful about allowing my name to be used as an endorsement for any product. I wanted a call that was so versatile it would eliminate the need for carrying multiple calls. The combo slate and glass gives me that versatility.  This is the first signature series call I ever been confident in enough to add my name to. Commando Hunting Products has earned my respect and a place in my turkey vest!"
Brenda and the crew from Commando pulled out several SWEET Talk calls at a Women's Seminar (which also had several children and men as guests!) during the 2012 National Wild Turkey Federation's Convention and Sport show, held in Nashville, Tenn. Sponsored by Women's Outdoor News, this seminar by Brenda featured turkey hunting tips — from what to wear to what to carry and how to call. She also, in typical Valentine fashion, moved the seminar along at a fast and funny pace.
According to Commando,
The Two-Sided Sweet Talk Friction Call is produced from No.1 select hard maple. The density and tight grain of the hard maple allows Sweet Talk to emit a high-pitched raspy sound with very little effort. Flip the Sweet Talk over and the bottom sound board doubles as an additional striking surface that emits a deeper tone that is perfect for soft calling. The one-piece purple heart flare tip striker produces a break over yelp with ease and purrs, putts and clucks that are worthy of any champion caller! The Sweet Talk friction call was designed in conjunction with Brenda Valentine and is manufactured in the U.S.A. by Commando Hunting Products on a state-of-the art three dimensional CNC machining center. The repeatability of the manufacturing process enables each and every Sweet Talk friction call to produce championship sound quality.
It weighs .08 pounds and retails for $40. Visit Commando Hunting Products online.
About Barbara Baird

Publisher/Editor Barbara Baird is a freelance writer in hunting, shooting and outdoor markets. She is a contributing editor at "SHOT Business," and her bylines are found at several top hunting and shooting publications, including NRA, NSSF and Field & Stream. View all posts by Barbara Baird →
The Conversation