Share the post "Katie Harris wins Lady Champion at Superstition Mountain Mystery 3-Gun"
ACCOKEEK, MD (March 29, 2012)
 –Team Benelli 3-Gun Team member, Taran Butler enjoyed an impressive win this weekend at the nation's annual Superstition Mountain Mystery 3-Gun—his 11th in a row at this competition.  Competing with a field of nearly 200 top 3-gun shooters, Bulter, Grand Master shooter, 6-time Fort Benning Tactical and Open Champion and five-time USPSA Multi-Gun National Tactical Champion, led the pack taking first place in the Tactical Scope (T/S) division.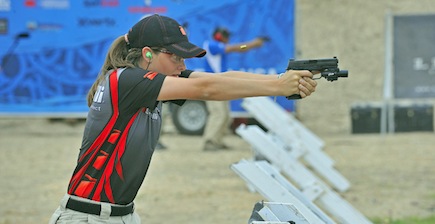 Also winning the T/S Division was Katie Harris, who took top honors as Lady Champion and placed 2nd in Junior's. Other Team Benelli top finishers in the T/S Division were Chris Sechiatano (14th) and Ben Fortin (15th). Kurt Miller took 6th place in the Tactical Limited Division (T/L) and Tony Holmes placed 4th in the Open Division.Hosting more than 350 shooters, the 2012 Superstition Mountain Mystery 3-Gun match was held last weekend at the Rio Salado Sportsman Club in Mesa, Arizona. Considered the longest running and most popular 3 Gun match in the world, Superstition Mountain marked the beginning of the season for the 3-Gun Nation (3GN) Tour.
"I had a great weekend, winning my 11th title in a row at Superstition Mystery Mountain 3 Gun Championship," said Butler. "Without Benelli's support I wouldn't have been able to achieve what I've done."
Benelli is a world leader in manufacturing quality semiautomatic shotguns and rifles that are known for their ultra-reliability and high-performance standards.
Disclaimer: The WON • This publication receives payment for advertising. • This publication reviews products and provides editorial copy (like all other major publications) because of advertising sold. It does not guarantee a positive review of such products. • If our freelance writers do not pay a full retail price for a product being reviewed, from Feb. 11, 2015, forward, they will explicitly state that in the review. • Unless explicitly stated, any writers at The WON have no affiliation or relationship with the supplier of a product being reviewed. • We generally follow the "if you can't say something nice, say nothing" rule. If we review a product and don't like it, we will either offer constructive criticism as to how to improve said product in print, or we will refuse to review it.
Our privacy policy: At Women's Outdoor News, The WON, we only collect your email address for newsletter subscription purposes or for giveaway opportunities. You may opt out at any time if you decide you don't want to receive the newsletter any longer. We never sell or give your private information to any other party. Not to our advertisers, friends or family. No one gets it. Ever.
Women's Outdoor News, The WON, contains intellectual property owned by Women's Outdoor News, The WON, including trademarks, trade dress, copyrights, proprietary information and other intellectual property. You may not modify, publish, transmit, participate in the transfer or sale of, create derivative works from, distribute, display, reproduce or perform, or in any way exploit in any format whatsoever any of the Women's Outdoor News, The WON content, in whole or in part without our prior written consent. We reserve the right to immediately remove your account and access to Women's Outdoor News, The WON, including any products or services offered through the site, without refund, if you are caught violating this intellectual property policy.