It's been more than a year now that I've been agonizing over two things regarding my concealed carry practice. The first thing is that I have to lose the large, .40-caliber GLOCK that I was given to carry several years ago. I mean, it's OK for a thigh-holstered mount when I'm on the ranch. Thigh rigs would be very hard to conceal in the summer, unless you're into sweating under a trench coat or long jacket! And, I tire of carrying a gun in my purse and on the body? It prints.
The second thing? Should I switch to a revolver?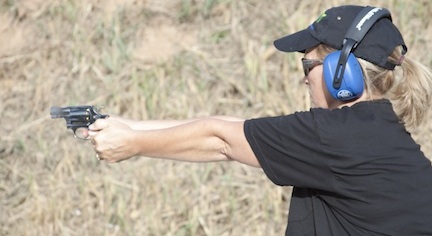 Tammy Ballew owns a Smith & Wesson revolver. Photo by Jason Baird
And, I really, really like other semi-autos, like Smith & Wesson's entire line of M&Ps — which I loved shooting for an episode of Women of the Wild Outdoors TV show recently. And what's not to like about Sig Sauer's line of carry guns? And, I noticed Colt's supreme lineup of nice 9mms while at the SHOT show. What to do, what to do? I lay awake at nights thinking about which gun to buy. And then …
A revelation! I'll treat my gun collection like my shoe collection!
That's what I decided to do. I am going to accumulate a variety of carry guns, so that based on the situation and in particular, my mode of dress for that day, I will be appropriately armed.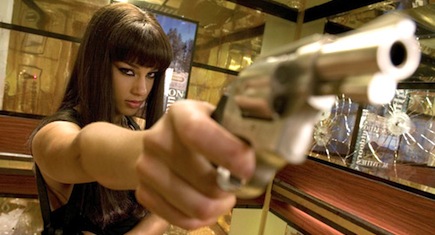 Alicia Keyes in the movie "Smokin' Aces"
First of all, I'm going to cross over to an industry-standard carry gun, and since it's a revolver, I'm going to go to one of the finest and most reputable maker of revolvers in the gun world — Smith & Wesson. But, which one, which one? I narrowed it down to between the 442 and 642. And after a recent trip to Huntsville, Ala., where I visited my favorite gun shop in the world, Larry's Pistol and Pawn, I decided to buy the 642 Airweight because it has an aluminum frame and stainless steel cylinder, crane and barrel — the entire barrel. Cost is $449. And when you think of carrying the summer in our humidity, you must be aware of moisture.
For this reason, and for many others that Ralph posted over at the blog The Truth About Guns and the review on the 642, I am ordering one — today. I'll take you along with me. I mean, it is like buying shoes. Now I'll need a holster and a belt and ammo and cleaning supplies for this caliber (.38 Special + P).
My next gun
What do you prefer to carry when the temperature rises?