Share the post "NC Wildlife Biologist Christine Kelly wins USFWS award for work with endangered flying squirrels"
RALEIGH, N.C.- Wildlife Diversity Biologist Christine Kelly of the N.C. Wildlife Resources Commission has been awarded a 2011 Recovery Champion Award from the U.S. Fish and Wildlife Service.
The award, which was given to nine individuals across the country, honors U.S. Fish and Wildlife Service employees and partners for outstanding efforts to conserve and protect threatened species of fish, wildlife and plants. Kelly was honored for her work with the Carolina northern flying squirrel, an endangered species found isolated in small populations in only the highest mountains in North Carolina.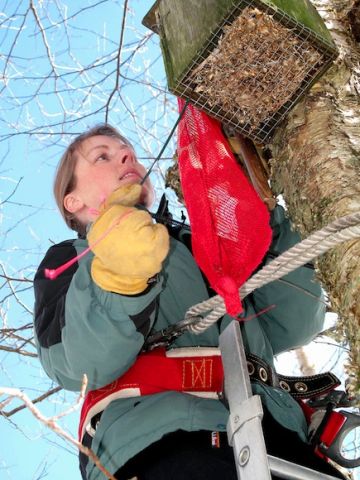 Biologist Christine Kelly checks a flying squirrel nest. Photo courtesy North Carolina Wildlife Resources Commission
"Recovery champions are helping listed species get to the point at which they are secure in the wild and no longer need Endangered Species Act protection," said Service Director Dan Ashe. "These groups and individuals have done amazing work in helping to bring dozens of species back from the brink of extinction, while improving habitat that benefits many other species and local communities."
Kelly's work included designing launch poles to help the squirrels cross Cherohala Skyway in Western North Carolina. The crossing structures, installed by Duke Energy in 2008, give the small mammals access to more foraging habitat, den sites and mates.
"Working with threatened and endangered species can be a challenge, so every conservation success is worth celebrating," Kelly said. "I've been so pleased with our success with these squirrels, and I like that my coworkers and I on the mountain diversity crew spend time working together on each other's projects. This is a success for all of us, and habitat improvements for the northern flying squirrel will also mean good things for other species such as the Weller's salamander and northern saw whet owl."
As part of Kelly's work, she identifies, examines and weighs the squirrels, and places ear tags on them. See videos of this work here and here.
The U.S. Fish and Wildlife Service award also honored Kelly for a partnership with the U.S. Forest Service and Appalachian Mountain Joint Ventures to plant red spruce, an important habitat for the squirrel. The balsam woolly adelgid has reduced Fraser fir trees and the hemlock woolly adelgid is reducing high elevation Eastern hemlocks, both important conifers for the squirrel.
Kelly is also working with Virginia Tech on a vocalization study of the squirrels using acoustic detectors to help locate the species. This could be used for rapid surveys and long-term monitoring of the squirrel.
Kelly has worked for the Wildlife Commission since 2005. Before that, she worked for the U.S. Forest Service. She lives with her husband, Dan Bennett, in Asheville.
The public can support this effort as well as other nongame wildlife monitoring, research and management projects in North Carolina by:
Donating through the Tax Check-Off for Nongame and Endangered Wildlife on their N.C. State Income tax form;
Registering a vehicle or trailer with a N.C. Wildlife Conservation license plate; or,
Donating online at http://www.ncwildlife.org/GiveDonate.aspx.
Find out more information about the Wildlife Diversity Program, including projects and annual reports.
About the N.C. Wildlife Resources Commission
Since 1947, the N.C. Wildlife Resources Commission has been dedicated to the conservation and sustainability of the state's fish and wildlife resources through research, scientific management, wise use, and public input. The Commission is the state regulatory agency responsible for the enforcement of fishing, hunting, trapping and boating laws and provides programs and opportunities for wildlife-related educational, recreational and sporting activities. To learn more, visit www.ncwildlife.org.
Get the N.C. Wildlife Update – news including season dates, bag limits, legislative updates and more – delivered free to your Inbox from the N.C. Wildlife Resources Commission. Go to www.ncwildlife.org/enews.
Contact:
Carolyn Rickard,
Public Information Officer
919-707-0124
carolyn.rickard@ncwildlife.org
Disclaimer: The WON • This publication receives payment for advertising. • This publication reviews products and provides editorial copy (like all other major publications) because of advertising sold. It does not guarantee a positive review of such products. • If our freelance writers do not pay a full retail price for a product being reviewed, from Feb. 11, 2015, forward, they will explicitly state that in the review. • Unless explicitly stated, any writers at The WON have no affiliation or relationship with the supplier of a product being reviewed. • We generally follow the "if you can't say something nice, say nothing" rule. If we review a product and don't like it, we will either offer constructive criticism as to how to improve said product in print, or we will refuse to review it.
Our privacy policy: At Women's Outdoor News, The WON, we only collect your email address for newsletter subscription purposes or for giveaway opportunities. You may opt out at any time if you decide you don't want to receive the newsletter any longer. We never sell or give your private information to any other party. Not to our advertisers, friends or family. No one gets it. Ever.
Women's Outdoor News, The WON, contains intellectual property owned by Women's Outdoor News, The WON, including trademarks, trade dress, copyrights, proprietary information and other intellectual property. You may not modify, publish, transmit, participate in the transfer or sale of, create derivative works from, distribute, display, reproduce or perform, or in any way exploit in any format whatsoever any of the Women's Outdoor News, The WON content, in whole or in part without our prior written consent. We reserve the right to immediately remove your account and access to Women's Outdoor News, The WON, including any products or services offered through the site, without refund, if you are caught violating this intellectual property policy.