Share the post "Kenda Lenseigne Makes it a Three-Peat – Wins CMSA Western US Championship"
(Las Vegas, NV) National Champion cowboy mounted shooter Kenda Lenseigne racked up her third major title of the year on Aug. 4, blasting her way to victory at the South Point Equestrian Arena in Las Vegas. The win also marks the third time this year she has taken not only the the women's division buckle, but has beaten every male competitor also.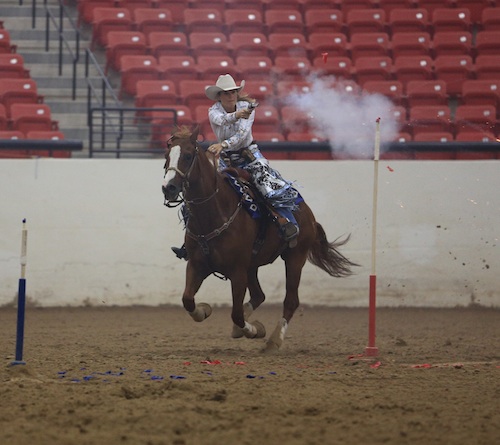 Photo courtesy of Kenda Lenseigne
Not content with achieving High Overall and Overall Champion Cowgirl status, she also added to her string of world records on Friday night, laying down the fastest time in the Cimarron Eliminator event, delighting the grandstand crowd in the arena with an expert display of horsemanship. Lenseigne's equestrian partner Justin, a 15-year-old American Quarter Horse ran flawlessly throughout the four-day competition and attracted his own fan club from younger members of the audience. "This was one of those shoots where everything just came together,' said Lenseigne. "My sponsors and I have spent a lot of time perfecting our equipment. That paired with countless hours in the saddle is proof that our hard work is paying off."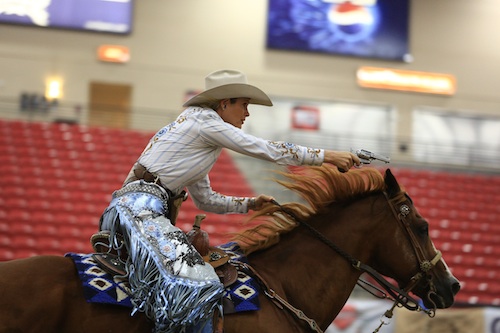 Photo courtesy of Kenda Lenseigne
The two-time National and former World Champion has partnered with Safariland and Bianchi Cowboy to develop her own line of holsters for the sport, and created the first dedicated shooting saddle in conjunction with Circle Y of Yoakum. She rides in style wearing Cruel Girl clothing while Justin works his peak performance in Professional's Choice Sports Medicine Products. The Thunderstorm line of single action revolvers used by Lenseigne is a joint effort that she helped design with Cimarron Firearms.
Disclaimer: The WON • This publication receives payment for advertising. • This publication reviews products and provides editorial copy (like all other major publications) because of advertising sold. It does not guarantee a positive review of such products. • If our freelance writers do not pay a full retail price for a product being reviewed, from Feb. 11, 2015, forward, they will explicitly state that in the review. • Unless explicitly stated, any writers at The WON have no affiliation or relationship with the supplier of a product being reviewed. • We generally follow the "if you can't say something nice, say nothing" rule. If we review a product and don't like it, we will either offer constructive criticism as to how to improve said product in print, or we will refuse to review it.
Our privacy policy: At Women's Outdoor News, The WON, we only collect your email address for newsletter subscription purposes or for giveaway opportunities. You may opt out at any time if you decide you don't want to receive the newsletter any longer. We never sell or give your private information to any other party. Not to our advertisers, friends or family. No one gets it. Ever.
Women's Outdoor News, The WON, contains intellectual property owned by Women's Outdoor News, The WON, including trademarks, trade dress, copyrights, proprietary information and other intellectual property. You may not modify, publish, transmit, participate in the transfer or sale of, create derivative works from, distribute, display, reproduce or perform, or in any way exploit in any format whatsoever any of the Women's Outdoor News, The WON content, in whole or in part without our prior written consent. We reserve the right to immediately remove your account and access to Women's Outdoor News, The WON, including any products or services offered through the site, without refund, if you are caught violating this intellectual property policy.