Share the post "QDMA to launch youth program at national convention"
BOGART, Ga. — The Quality Deer Management Association (QDMA) will celebrate the launch of its new Youth Education and Outreach Program – the Rack Pack – at its 12th Annual National Convention in Nashville, Tenn., August 9-11. The QDMA National Convention will be held in conjunction with the Bass Pro Shops Land & Wildlife Expo at the Gaylord Opryland Resort & Convention Center.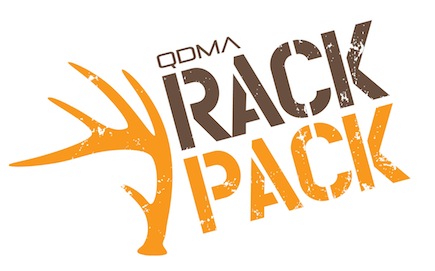 Youth of all ages are invited to visit the Rack Pack's booth at the Expo to take part in various activities, contests and giveaways. On Friday, August 10, and Saturday, August 11, the first 50 kids to visit the QDMA booth and sign up for their Rack Pack membership will receive a free grunt call. Additionally, the Rack Pack staff will be giving away rattle bags to visitors throughout the day.
"We are all thrilled to launch the Rack Pack Program and are ready to start down this exciting road of recruiting youth to the world of white-tailed deer hunting," QDMA's Youth Education and Outreach Manager Daniel Bartley said. "There will be a lot of exciting activities and events for the whole family to enjoy at the Convention."
Some activities taking place at the Rack Pack's booth will include: craft stations for making your own rattle bags and survival bracelets, a scavenger hunt, a coloring contest and face painting. There will also be a .22-caliber rifle range where kids will receive professional instruction from Lance Dement, a former member of the US Olympic Rifle Team, an archery range led by Ryan Furrer, QDMA Northeast Regional Director and National IBO Archery Champion, and a BB gun range.
For the first time ever, youth are encouraged to bring their favorite deer mount to the Expo as this year's "Big Buck Contest" has been extended to include a youth division.
On Saturday, August 11, the Rack Pack booth will also host the Tennessee Wildlife Resources Agency (TWRA), who will announce the winner of its first-ever youth elk tag drawing. Over 300 individuals entered to win the elk tag for the upcoming hunting season, and all entrants present at the Rack Pack booth during the drawing will be presented with a sportsman's package valued at $50.
"Our main goal is to get the youth as pumped up as we are about the Rack Pack's launch," Bartley said.  "We are looking forward to meeting and signing up the very first members of the Rack Pack."
For more information on the Land & Wildlife Expo and to purchase tickets in advance visit www.landandwildlifeexpo.com. Those interested in attending both the Expo and QDMA's National Convention can log onto www.qdma.com/corporate/national-convention or call (800) 209-3337.
About QDMA
QDMA is dedicated to ensuring the future of white-tailed deer, wildlife habitat and our hunting heritage. Founded in 1988, QDMA is a national nonprofit wildlife conservation organization with nearly 50,000 members in all 50 states and Canada. To learn more about QDMA and why it is the future of deer hunting, call 800-209-3337 or visit www.QDMA.com.
Disclaimer: The WON • This publication receives payment for advertising. • This publication reviews products and provides editorial copy (like all other major publications) because of advertising sold. It does not guarantee a positive review of such products. • If our freelance writers do not pay a full retail price for a product being reviewed, from Feb. 11, 2015, forward, they will explicitly state that in the review. • Unless explicitly stated, any writers at The WON have no affiliation or relationship with the supplier of a product being reviewed. • We generally follow the "if you can't say something nice, say nothing" rule. If we review a product and don't like it, we will either offer constructive criticism as to how to improve said product in print, or we will refuse to review it.
Our privacy policy: At Women's Outdoor News, The WON, we only collect your email address for newsletter subscription purposes or for giveaway opportunities. You may opt out at any time if you decide you don't want to receive the newsletter any longer. We never sell or give your private information to any other party. Not to our advertisers, friends or family. No one gets it. Ever.
Women's Outdoor News, The WON, contains intellectual property owned by Women's Outdoor News, The WON, including trademarks, trade dress, copyrights, proprietary information and other intellectual property. You may not modify, publish, transmit, participate in the transfer or sale of, create derivative works from, distribute, display, reproduce or perform, or in any way exploit in any format whatsoever any of the Women's Outdoor News, The WON content, in whole or in part without our prior written consent. We reserve the right to immediately remove your account and access to Women's Outdoor News, The WON, including any products or services offered through the site, without refund, if you are caught violating this intellectual property policy.