Looking for a special trip? Or a day of guided fishing? Or new fly fishing gear, or neat art, or beautiful jewelry? Look no further than the Casting for Recovery (CFR) online auction! Now in its fourth year, the annual holiday auction raises money for the CFR's healing fly-fishing retreats, held nationwide and in Canada, for women who have experienced breast cancer. The auction begins Mon., Nov. 26, and ends Wed., Dec. 5.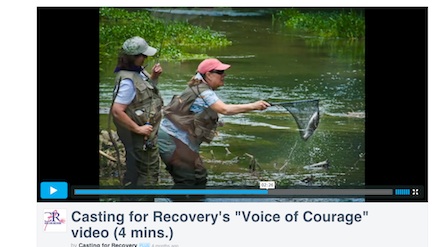 From Casting for Recovery's video, "Voices of Courage."
Check out some of its featured items: a 3-night stay in San Francisco…a day at the races in Louisville, KY…fishing on the famed Madison River…a guided day of fishing on the beautiful Battenkill; Sage fly rods, a special CFR edition Emotion kayak, art by David A. Footer, Mimi Matsuda, and other artists…and much, much more!
Learn more about Bidding for Good, the online auction for Casting for Recovery.
Disclaimer: The WON • This publication receives payment for advertising. • This publication reviews products and provides editorial copy (like all other major publications) because of advertising sold. It does not guarantee a positive review of such products. • If our freelance writers do not pay a full retail price for a product being reviewed, from Feb. 11, 2015, forward, they will explicitly state that in the review. • Unless explicitly stated, any writers at The WON have no affiliation or relationship with the supplier of a product being reviewed. • We generally follow the "if you can't say something nice, say nothing" rule. If we review a product and don't like it, we will either offer constructive criticism as to how to improve said product in print, or we will refuse to review it.