Share the post "Cool, green, lean and mean: Traci Schauf reviews Liquid Solutions Sof-flex bottle, bamboo dinnerware and brewing mug"
Just when I thought it was almost winter and time to pack away the picnic gear, I got the nicest surprise – a  box on my front porch, containing some new goodies to review from Liquid Solutions.
The first item out of the box was a Sof-flex water bottle. This was fun. It holds 16 ounces, so it's good for short hikes (Always my first thought with any item: Just how many days can I stay out on the trail with it?). But it has great urban application also – the neoprene sleeve has a hand-strap that holds snugly, and a tightly closed Velcro pocket to hold a key or Starbucks card, depending on your priorities. I did find, however, that it leaked around the cap if squeezed too tightly.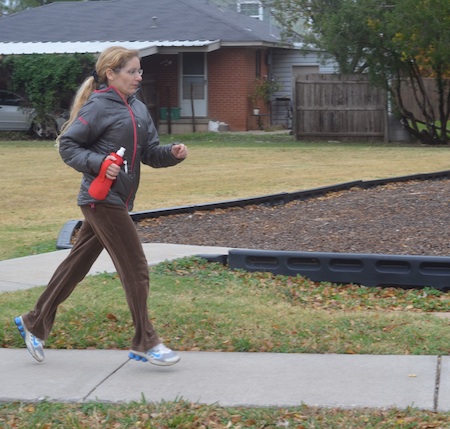 And … she's off … with her handy, dandy Sof-flex water bottle. Photo courtesy of Traci's hubby
The neoprene sleeve kept my water cold for the full 45 minutes of my run. The bottle is BPA free, dishwasher safe, and the whole thing can be rolled up to stuff in a pocket.  Awesome. The sleeve and bottles are sold separately. A two-pack of the bottles is $5.99 and the neoprene sleeve is $9.99.
Everything tastes better outdoors, especially on this bamboo dinnerware. Photo by Traci Schauf's man
Item number two: dinnerware made from bamboo and corn. Cool eco-friendly idea. This stuff will biodegrade within a year, according to the company statement. Downside is you can't put it in either the dishwasher or the microwave. This would make it into my car camping box. It feels very sturdy and survived my "drop test." Knowing the high "oops" factor my family has, I tested the bowl and cup on the concrete. Dropped 10 times each, there was no cracking, no splitting, no chipping, only very minor abrasions on the lips and bottom edges. It definitely passed the toughness test.
If you host outdoor gatherings, you might really love using this dinnerware.  Downsides: the company states use only with cold foods. However, I put a piece of grilled chicken on it with no damage to the plate, and warm soup (not boiling) in the bowl with no problems.  Don't put anything steamy in the bowl; it will cause it to de-laminate. You CANNOT use a steak knife on it. It cuts right into the plate. However, it still gets points for heft, for good looks, and you get points for using something that's good for the environment. It's brand new and the price is not yet listed on the shopping page.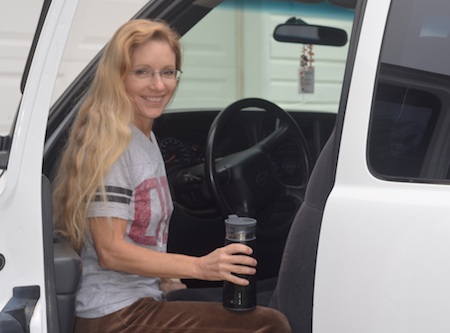 There she goes, with her tea entow. Photo by Traci Schauf's hubster
Item number three out of the box … oh my, can you say commuter love at first sight?!  It's called a brewing mug, and I am determined to take a backpacking trip JUST to take this along and be the coolest hiker out there. This double-walled mug keeps your tea hot and hands cool. But it's not just any mug; it makes your brew with loose-leaf tea. I'm sure this is going to be a part of my daily commute all winter. Simply put loose tea in the little basket in the top of the mug, pour in hot water slowly until the basket is half-submerged, screw on the top and jump into the car.  $17.99 And, it adds panache to the mug routine.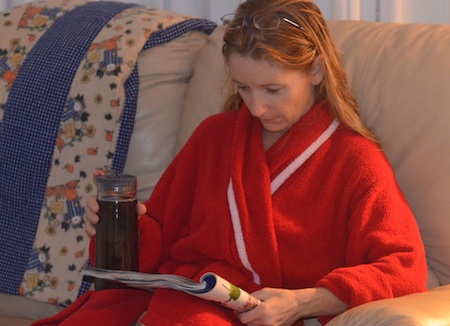 The day is not done yet, and she's not finished with her loose-leafed tea in the handy dandy Liquid Solutions mug. Photo again by Traci Schauf's most kind husband
Visit Liquid Solutions and shop for its line of super eco-friendly items.
Disclaimer: The WON • This publication receives payment for advertising. • This publication reviews products and provides editorial copy (like all other major publications) because of advertising sold. It does not guarantee a positive review of such products. • If our freelance writers do not pay a full retail price for a product being reviewed, from Feb. 11, 2015, forward, they will explicitly state that in the review. • Unless explicitly stated, any writers at The WON have no affiliation or relationship with the supplier of a product being reviewed. • We generally follow the "if you can't say something nice, say nothing" rule. If we review a product and don't like it, we will either offer constructive criticism as to how to improve said product in print, or we will refuse to review it.
Our privacy policy: At Women's Outdoor News, The WON, we only collect your email address for newsletter subscription purposes or for giveaway opportunities. You may opt out at any time if you decide you don't want to receive the newsletter any longer. We never sell or give your private information to any other party. Not to our advertisers, friends or family. No one gets it. Ever.
Women's Outdoor News, The WON, contains intellectual property owned by Women's Outdoor News, The WON, including trademarks, trade dress, copyrights, proprietary information and other intellectual property. You may not modify, publish, transmit, participate in the transfer or sale of, create derivative works from, distribute, display, reproduce or perform, or in any way exploit in any format whatsoever any of the Women's Outdoor News, The WON content, in whole or in part without our prior written consent. We reserve the right to immediately remove your account and access to Women's Outdoor News, The WON, including any products or services offered through the site, without refund, if you are caught violating this intellectual property policy.