Share the post "Heckler & Koch announces first female competitive shooter on team"
Heckler & Koch would like to announce the newest member and HK's first female competitive shooter, Maria Harbin. Like other HK Team members, Maria will be using a P30L "out of the box" to compete in USPSA (United States Practical Shooting Association) and other matches throughout the 2013 shooting season.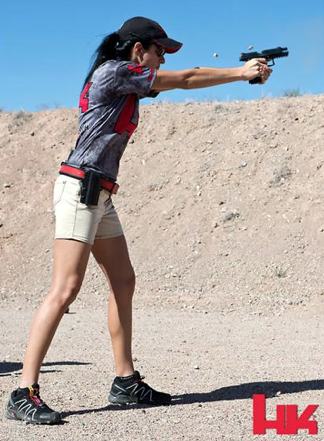 Maria Harbin shooting the P30L from Heckler & Koch. Photo courtesy of HK
"Maria brings an amazing amount of natural talent and unlimited potential to the Team. Look for Maria at the top of ladies division before long," said Team Captain, Jason Koon.
About Maria Harbin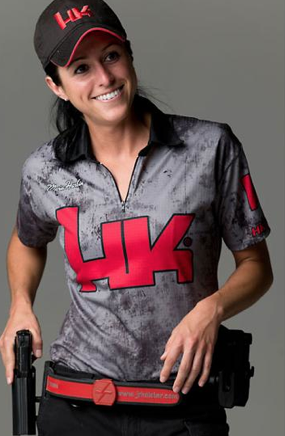 Photo courtesy of HK
Maria is a graduate student of Florida State University and is currently studying Criminal Justice. During Maria's freshman year of college, encounters of a stalker led lead her to discover a passion for martial arts and competition. With a black belt as well as an instructor certification, Maria is not one to take lightly.
Maria thanks her concealed carry instructor who encouraged her to attend a USPSA match, which was her first introduction to shooting sports. After one USPSA match Maria was hooked and knew stationary, paper targets at the local range would never be enough to satisfy her again. She began looking for opportunities to compete in small, local matches, and to seek out knowledge from the most proficient and professional shooters.
"Like martial arts shooting sports constantly challenges me in a unique way and presents endless opportunities to grow in proficiency and skill with my weapon, the HKP30L, in a challenging, safe, and enjoyable fashion," says Harbin.
Maria continues to challenge herself with personal objectives include shooting 3-Gun at a professional level, achieving the rank of 5th degree black belt, and completing her Masters degree.
Disclaimer: The WON • This publication receives payment for advertising. • This publication reviews products and provides editorial copy (like all other major publications) because of advertising sold. It does not guarantee a positive review of such products. • If our freelance writers do not pay a full retail price for a product being reviewed, from Feb. 11, 2015, forward, they will explicitly state that in the review. • Unless explicitly stated, any writers at The WON have no affiliation or relationship with the supplier of a product being reviewed. • We generally follow the "if you can't say something nice, say nothing" rule. If we review a product and don't like it, we will either offer constructive criticism as to how to improve said product in print, or we will refuse to review it.
Our privacy policy: At Women's Outdoor News, The WON, we only collect your email address for newsletter subscription purposes or for giveaway opportunities. You may opt out at any time if you decide you don't want to receive the newsletter any longer. We never sell or give your private information to any other party. Not to our advertisers, friends or family. No one gets it. Ever.
Women's Outdoor News, The WON, contains intellectual property owned by Women's Outdoor News, The WON, including trademarks, trade dress, copyrights, proprietary information and other intellectual property. You may not modify, publish, transmit, participate in the transfer or sale of, create derivative works from, distribute, display, reproduce or perform, or in any way exploit in any format whatsoever any of the Women's Outdoor News, The WON content, in whole or in part without our prior written consent. We reserve the right to immediately remove your account and access to Women's Outdoor News, The WON, including any products or services offered through the site, without refund, if you are caught violating this intellectual property policy.