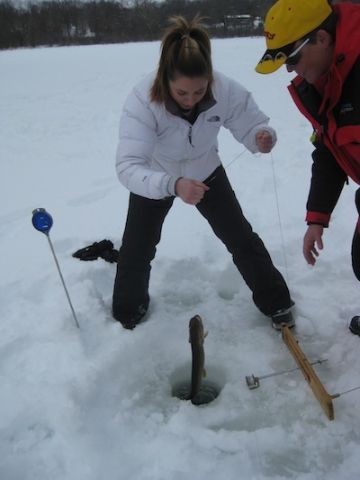 She looks happy! What a thrill to learn the skills involved in ice fishing. Photo courtesy of WI Women Fish
We're grooving on the whole ice fishing thing here at Women's Outdoor News, even though we're based in the Ozarks of Missouri. So, when we ran across this helpful list of tips for ice fishing, written by Naomi K.Shapiro, we just had to point you to it. Shapiro publishes DTO.com, a website that features such topics as lunar tables, zone maps, Boone & Crocket score sheets and a special category dear to our hearts, "Women Outdoors!" Don't we just love it when we find these treasures in the wilds of the Internet outdoor world? Visit Naomi Shapiro and find out more about how to get out on the ice, with hook and bait in hand and boots on feet this winter: Women's Guide to Ice Fishing.
Disclaimer: The WON • This publication receives payment for advertising. • This publication reviews products and provides editorial copy (like all other major publications) because of advertising sold. It does not guarantee a positive review of such products. • If our freelance writers do not pay a full retail price for a product being reviewed, from Feb. 11, 2015, forward, they will explicitly state that in the review. • Unless explicitly stated, any writers at The WON have no affiliation or relationship with the supplier of a product being reviewed. • We generally follow the "if you can't say something nice, say nothing" rule. If we review a product and don't like it, we will either offer constructive criticism as to how to improve said product in print, or we will refuse to review it.