Share the post "Dear Santa … Shooting you our holiday wish list for a huntress and gun girl"
Looking for the perfect gift for the huntress or shooting gal in your life? Are you still searching for a gift to add to your own Christmas list? Look no further! Below is the WON's version of a huntress and gun girl holiday wish list.
Gifts for the huntress
WON Pick: Próis Hunting & Field Apparel Pro-Edition jacket in Realtree AP. This is a great staple piece for any huntress's closet, and it just so happens to be 20% off right now!
Próis' holiday sale: Stuff your stockings Sale — All accessories 20% off!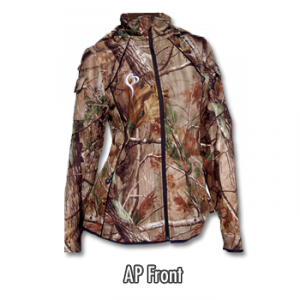 Prois Pro-Edition jacket is now 20 percent off.
WON Pick: HERCAMOSHOP.com's line of private label, scent-free products for women. These products have been tested by a few of the WON Guns and they have all given it rave reviews. The shampoo and conditioner have a rich lather, and the hair gel doesn't leave your curls crunchy. We're also excited about the availability of larger bottles of shampoo, conditioner and body wash!
HERCAMOSHOP holiday sale: 
HERCAMOSHOP scent-free products include body wash, shampoo, conditioner, lotion, hair gel and hair spray.
WON Pick: Girls with Guns Fur Hoodie and matching Script Lounge Pants. We think this matching set looks like the perfect outfit to snuggle up in at deer camp! The hoodie is even lined with sherpa material to make it extra warm. Different color options available.
Fur — what more could a huntress ask for?
WON Pick: ATI Gunstocks Mossberg Akita adjustable stock and forend with Neoprene adjustable cheek rest. Fits Most 12-gauge Mossberg 500/535/590/835 shotguns.
Four Position Adjustable Buttstock
Length of Pull Adjusts from 12 3/8″ to 14 3/8″
NEW for 2012 – Ergonomic Forend Design with Sure-Grip Texture
Scorpion Recoil Pad
Neoprene Cheekrest Pad
Adjustable Cheekrest for Added Comfort (1/2")
Snap-In Cheekrest Plugs
Weatherproof
DuPont® Extreme Temperature Glass Reinforced Polymer Stock
We think the customization abilities of the Akita stock and forend would be perfect for any huntress.
Gifts for the gun girl
WON Pick: Smith & Wesson's Women's Tracking jacket by Wild Things Gear. We love the concealed carry features on this jacket and it's stylish too!
Wild Things Tactical holiday sale: 20% off most items and free shipping over $300.
And what to put in the pocket of the way cool jacket? How about this year's firearm that took the concealed-carry world by storm. The M&P Shield. And who better to be modeling this Smith & Wesson firearm than our own Marti Davis? Here she is putting it through its paces on the range after purchasing it in the 9mm option. We know Marti feels a lot safer when she's traveling the country, going to more hunts than most of us can ever imagine, with her M&P Shield tucked into her holster or bag.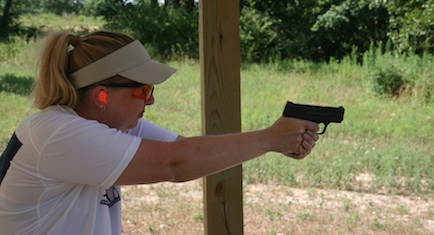 Marti Davis loves her new Shield. Photo courtesy of Barbara Baird
According to Smith & Wesson, "The new M&P SHIELD™ is a slim, concealable, lightweight, striker-fired polymer pistol. Available in 9mm and .40 S&W, the new M&P SHIELD features a slim design combined with the proven and trusted features found in the M&P Pistol Series. From the pistol's easily concealed one-inch profile to its optimized 18-degree grip angle, the M&P SHIELD offers professional-grade features that provide consumers with simple operation and reliable performance."
WON Pick: Key of A's Shot Thru the Heart necklace from their SureShot™ collection. SureShot™ is on it's way to becoming the next lifestyle brand. It's he only copyrighted, patent pending collection like it on the US market, so owning a piece is must have! We think the picture below speaks to the beauty of the collection.
Show your gun love with this beautiful necklace from Key of A jewelry.
WON Pick: Colt Defender series handgun, because we believe Santa is a Second Amendment supporter. You never know what kind of riff-raff you could run into while delivering gifts, right?
Available in both 45 ACP and 9mm.
Novak® Low Mount Carry Sights with Dots
Enhanced Hammer
Standard Safety Lock
Colt Upswept Beavertail Grip Safety
3-Hole Aluminum Trigger
Lowered and Flared Ejection Port
Check out Kristen Monroe's review of the Defender; she likes it in the 9 mm!
WON Pick: Gun Goddess Army green "Double Barrel" military style cap. Gun Goddess has over 50 products under $20 that would make great stocking stuffers, like their new notepads starting at $7.96. Our favorite is one that reads, "God grant me the patience to change the men I can, the aim to shoot the ones I can't, and the wisdom to know the difference."
Add a little bling to your holiday with the GunGoddess "Double Barrel" cap.
WON Pick: "SHOOT : Your Guide to Shooting and Competition" by Julie Golob. This is a great gift for a shooter of any skill level. Available in both print and ebook from Amazon.
SHOOT: Your Guide to Shooting and Competition
WON Pick: Otis Technology Elite® Cleaning System. This cleaning kit has virtually everything you could ever need and is specifically designed for .17 to .50-caliber rifles and pistols, .410 to 12/10-gauge shotguns and all in-line muzzleloaders.
Over 40 firearm-specific cleaning components in a nylon case
Six Memory-Flex® Cables of varying length for effective and correct Breech-to-Muzzle® cleaning
Twenty-three bronze bore brushes remove copper deposits and other fouling
Obstruction removal tools for jammed cases and other blockages
Specialized precision tools for complete breakdown and fine cleaning of all critical and hard to reach areas of your firearm
Optics cleaning gear for care and maintenance of scopes, rangefinders and more
Removable Tactical Cleaning System for convenient carrying in the field
Everything you could need for gun cleaning and more.
If you don't see something here that, uh, trips your trigger … feel free to visit the websites listed above and enjoy your shopping. Thanks, again, to all our sponsors in 2012.
Disclaimer: The WON • This publication receives payment for advertising. • This publication reviews products and provides editorial copy (like all other major publications) because of advertising sold. It does not guarantee a positive review of such products. • If our freelance writers do not pay a full retail price for a product being reviewed, from Feb. 11, 2015, forward, they will explicitly state that in the review. • Unless explicitly stated, any writers at The WON have no affiliation or relationship with the supplier of a product being reviewed. • We generally follow the "if you can't say something nice, say nothing" rule. If we review a product and don't like it, we will either offer constructive criticism as to how to improve said product in print, or we will refuse to review it.
Our privacy policy: At Women's Outdoor News, The WON, we only collect your email address for newsletter subscription purposes or for giveaway opportunities. You may opt out at any time if you decide you don't want to receive the newsletter any longer. We never sell or give your private information to any other party. Not to our advertisers, friends or family. No one gets it. Ever.
Women's Outdoor News, The WON, contains intellectual property owned by Women's Outdoor News, The WON, including trademarks, trade dress, copyrights, proprietary information and other intellectual property. You may not modify, publish, transmit, participate in the transfer or sale of, create derivative works from, distribute, display, reproduce or perform, or in any way exploit in any format whatsoever any of the Women's Outdoor News, The WON content, in whole or in part without our prior written consent. We reserve the right to immediately remove your account and access to Women's Outdoor News, The WON, including any products or services offered through the site, without refund, if you are caught violating this intellectual property policy.