Share the post "Putting the vest to the test: Michelle Bodenheimer reviews Tanglefree upland game vest"
During the last several years, I have been on a crusade to find the perfect upland bird vest. I have put many to the test, only to find them a bit too big or too small, too bulky, too flimsy, or simply too expensive.  I had been left to feel a bit like Goldie Locks … until the day I stumbled onto the Tanglefree upland game vest, which was just right!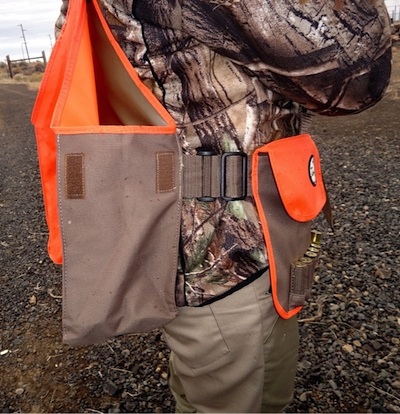 Looking good, right from the start. Photo courtesy of Shannon Salyer
It was by fate that my husband and I stopped by Fisherman's Marine and Outdoor in Oregon City, Oregon, earlier this fall. While my husband wandered, I spotted the blaze orange Tanglefree vest. Although skeptical at first, I thought I would give it a try. I slipped on the vest and adjusted the padded shoulder straps and waistband to size. The two front pockets balanced perfectly above my hips, while the large expandable game pocket on the back fit snuggly (but not too snuggly) against my body. I was amazed at how comfortable the vest was to wear. I had good range of motion and did not have the "bogged down" feeling many other vests gave me. It was almost too good to be true. I was afraid to look at the price tag, as I knew the vest would certainly be beyond my price range.  Much to my surprise, it was only $39.99. Sold!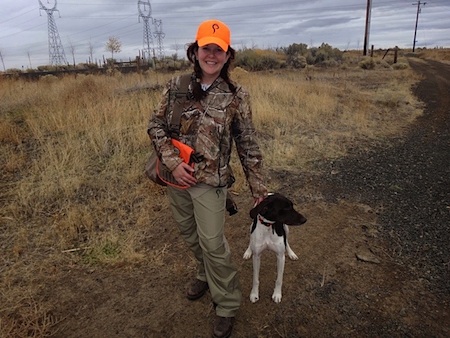 Michelle Bodenheimer and trusty companion, Storm. We think he likes her vest, too. Photo courtesy of Shannon Salyer
Putting the vest to the test
The following weekend, I had an opportunity to put the vest to the test in the field. I had plenty of room for my cell phone and wallet in the interior zippered pocket. I trusted my valuables would be secure, and the coated canvas material would keep them dry. I loaded down the front pockets with a couple of boxes of shells and my first aid kit, and hit the field.
I had a great day, harvesting a number of large rooster pheasant and several chukar. The expandable pocket on the back of the Tanglefree vest had plenty of room for my birds. I was very impressed by how it evenly distributed the weight of not only the shells in my front pockets, but also the growing pile of birds on my back. At no time in our hike did I feel weighed down by the heavy load.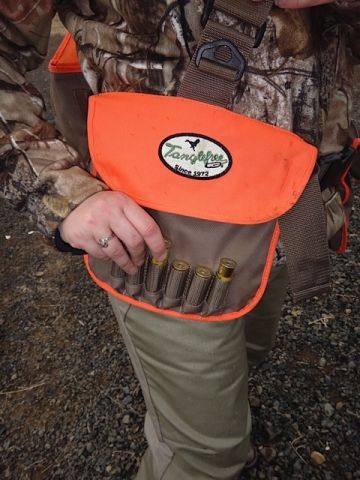 Plenty of room to carry shells, but she wants a water compartment!Photo courtesy of Shannon Salyer
My only grumble is that the vest does not have a designated pocket for a water bottle, although there is plenty of space in the front pockets for a small water container. For my purposes, I simply put my water bottler in the expandable back game pocket, which worked just as well.
After chasing roosters all day, I was happy I had purchased the Tanglefree Upland Game Vest. The vest was durable, comfortable, and quickly proved itself to be "just right."
The Tanglefree Upland Bird Vest can be purchased at Tanglefree, or from a retailer near you. MSRP: $34.99 -$39.99.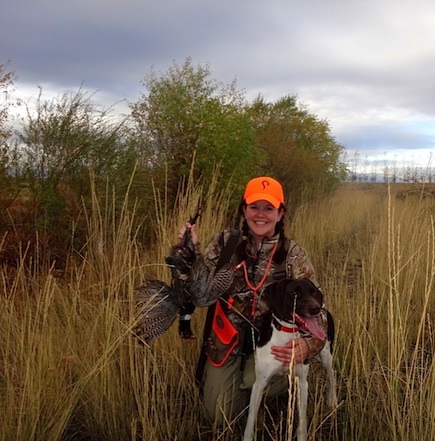 Photo courtesy of April Mack
Disclaimer: The WON • This publication receives payment for advertising. • This publication reviews products and provides editorial copy (like all other major publications) because of advertising sold. It does not guarantee a positive review of such products. • If our freelance writers do not pay a full retail price for a product being reviewed, from Feb. 11, 2015, forward, they will explicitly state that in the review. • Unless explicitly stated, any writers at The WON have no affiliation or relationship with the supplier of a product being reviewed. • We generally follow the "if you can't say something nice, say nothing" rule. If we review a product and don't like it, we will either offer constructive criticism as to how to improve said product in print, or we will refuse to review it.
Our privacy policy: At Women's Outdoor News, The WON, we only collect your email address for newsletter subscription purposes or for giveaway opportunities. You may opt out at any time if you decide you don't want to receive the newsletter any longer. We never sell or give your private information to any other party. Not to our advertisers, friends or family. No one gets it. Ever.
Women's Outdoor News, The WON, contains intellectual property owned by Women's Outdoor News, The WON, including trademarks, trade dress, copyrights, proprietary information and other intellectual property. You may not modify, publish, transmit, participate in the transfer or sale of, create derivative works from, distribute, display, reproduce or perform, or in any way exploit in any format whatsoever any of the Women's Outdoor News, The WON content, in whole or in part without our prior written consent. We reserve the right to immediately remove your account and access to Women's Outdoor News, The WON, including any products or services offered through the site, without refund, if you are caught violating this intellectual property policy.