It's been a WONderful year here at Women's Outdoor News. We thought you'd like to know what our most popular posts of 2012 were, and revisit them if you missed them. And by the way, thank you for your support and for coming back and commenting and joining in our news network here that features women who fish, hunt, shoot and participate in all types of outdoor adventures.
1. Our newest blogger Kathryn Maroun, knocks it outta the ballpark with her blog post on "The Real Atlantic Salmon Story." In this post, Kathryn explains the concern over the decline of the North Atlantic salmon, and one man's efforts to create a foundation to save these beautiful fish.
2. Heckler-Koch came in second because they announced a female competitive shooter on their team, Maria Harbin. Maria will be using a P30L "out of the box" to compete in USPSA (United States Practical Shooting Association) and other matches throughout the 2013 shooting season. We wish her well.
3. And then, there's another female competitive shooter, Tori Nonaka, of GLOCK, that always brings in the readership and our writer Jennifer Yoder featured her in "Tori Nonaka, a rising shooting star."
4. We love giveaways and this one ranked right up there, where we collaborate and also joust a bit with My Gun Culture. This one was for a BlackHawk Level II Serpa thigh rig holster and a hoodie from our advertiser Girls with Guns. If readers went over to My Gun Culture, which we highly recommend as reading material for all gun enthusiasts, they were eligible to enter that contest for holsters from Pretty Dangerous Accessories.
5. We embarked on an Olympic profiles series (thanks to Julie Golob's advice) and Amanda Furrer's profile topped the list. And we're not finished yet! Look for Jamie Gray and Kim Rhode in 2013.
6. Here's Kathryn Maroun again, with her "WhataCatch" contribution titled "Fishing in Bah Humbug Brazil." We heard that a lot of readers shed a tear over this one.
7. Our writer Kristen Monroe really nailed it when she had the idea to interview pro angler Babe Winkelman and his daughters for this feature called "Like Father, Like …  Daughters."
8. And then, we're back to shooting again, and my review of the Franchi Instinct, with "Joe Coogan Clay Shooting and Franchis instinct Equals winning combination." Some of us from The WON — Sara Ahrens, Mia Anstine and I — had the distinct Instinct pleasure of shooting with TV personality Joe Coogan, who represents Franchi so well.
9. All right … anytime we run anything about Team Smith & Wesson's Captain Julie Golob, the meter ticker rips through the roof, and this time, she signed her book, "Shoot: Your Guide to Shooting and Competition," and Athena Means, over at Gun Goddess, gifted a lovely .50 cal theme package, which included a lovely Swarovski crystal .50 cal cartridge necklace, .50 cal bottle opener, decal and gift certificate. You may watch Julie shoot the .50 cal for the first time at our YouTube channel.
10. What a surprise … here's Kathryn Maroun yet again, in her "Uh, about those fish photos" post. Again, Kathryn reports on conservation and how to safely photograph a fish.
So, as you can see that fishing and shooting topped this past year's posts. Of course, we also covered bass fishing, competitive shooting events, hunting stories and a multitude of gear reviews that ranged from camping equipment to water bottles for joggers to big guns, like Sara Ahrens' review of the Colt 1911 Gold Cup.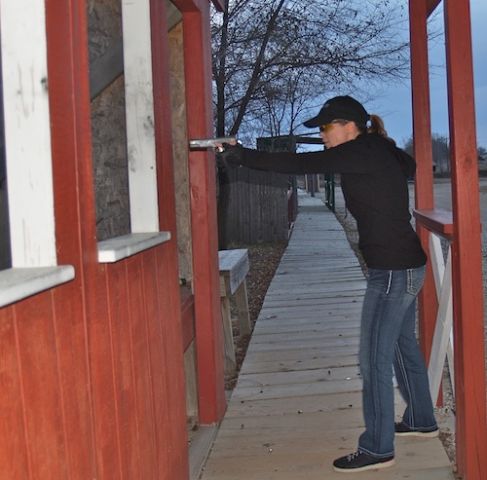 We're coming back in 2013 with two new additions to the lineup here at The WON, which we think you're going to love and come to depend on – for trusted advice on how to be successful in the outdoors.
Thank you to our advertisers, who provide the platform for our writers and reviewers to work and shine. We believe we have the strongest group of women shooters, hunters, anglers and adventurer writers in the business. And we would love to hear your stories, too.
Please use our contact form and send them to us for 2013. Or, visit us at our Facebook page.
If you will be attending SHOT Show in January, please drop us an email and let us know. We'd love to meet you, as Britney Starr, Sara Ahrens, Mia Anstine, Michelle Whitney Bodenheimer, Michelle Cerino, Stacey Huston and I will be searching for great products for women and their outdoor adventures in 2013.
Thank you,
Barbara Baird