It's still a bit of whirlwind when we think back on our week in Las Vegas at the Shooting Hunting Outdoor Trade Show. Britney Starr and I ran ourselves ragged in our efforts to find products for women. We compiled a list of a some of our favorites. There will be more throughout the year, as we actually test the products in the field and at the range.
Próis Hunting Apparel Leather Accessories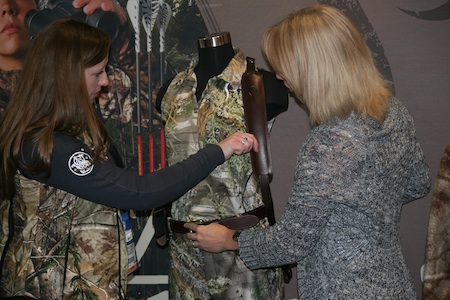 Julie Golob and Kirstie Pike admire the new line of leather accessories. Photo by Barbara Baird
Próis Hunting Apparel makes hunting and shooting apparel for real women hunters. Designed by an athlete and a registered nurse, as well as an avid huntress, the camo fits the form and function of a woman hunter. Available in either AP or Max-1, the camo works and some might say that's as important as any other gear for the perfect hunt.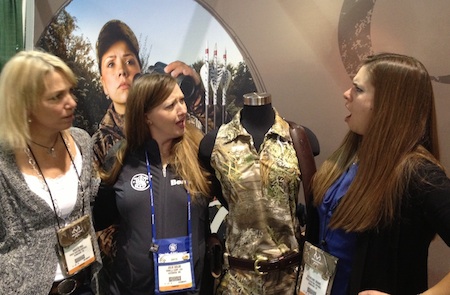 And then, the mannequin insulted everyone, especially Katherine Grand, on the far right. Photo by Barbara Baird
As most women would agree, the perfect outfit needs accessories. Enter Próis's new line of leather accessories, crafted in Canada.
Available in March, the trio of luscious chocolate brown leather includes a rifle sling,  a one-and-one-half-inch-wide belt with light accent stitching and a retro pouch that rides where it is placed and holds 12 rifle cartridges.
The belt and sling retail at $79.99 and the pouch costs $59.99. ~Barbara
Winchester TrAAcker™ shotgun ammunition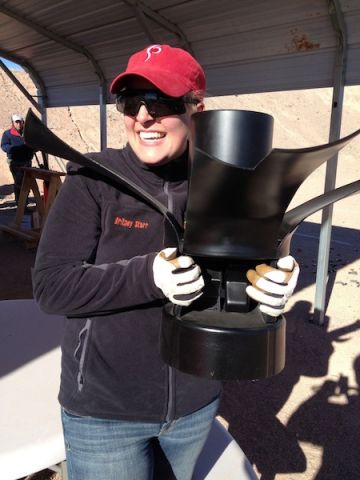 Wow! An over-sized model of Winchester's TrAAcker. Photo courtesy of Brian Koch
I had the opportunity to shoot the TrAAcker™ shells during Media Day and during the Bird Hunter Battle of the Sexes. I was blown away by the technology. This shell is the first of it's kind and uses an innovative wad design that captures 1/8-ounce of shot, allowing the wad to be tracked with the shot string.
The TrAAcker is available for 12-gauge in both orange for overcast or dark backgrounds, and black for clear skies. The Winchester representative at Media Day told me the TrAAcker cost roughly $1 more than a "regular" box of Winchester shotgun shells. ~Britney
LOWA's Yukon ice boot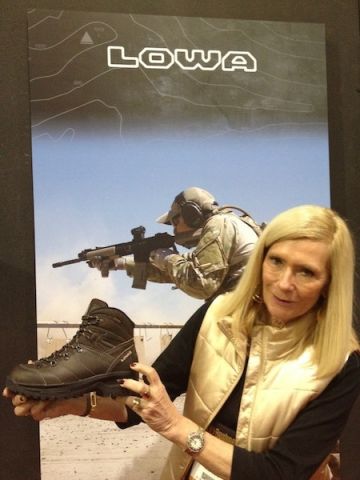 Here's Ingrid Niehaus with the Yukon Ice. Photo courtesy of Barbara Baird
I "heart" LOWA boots. In fact, I wore a pair of black Renegade GTX boots during the show. No sore feet at the end of the day and I was still zipping around at 5 p.m. while others were sitting and rubbing their barking dogs. I also wore LOWA's brown Renegades for turkey and whitetail hunting on rocky terrain in the Ozarks.
I stopped by the booth and visited with Ingrid Niehaus, who does marketing for LOWA and she showed me the newest member of the lineup –Yukon Ice GTX®. The Yukon Ice is a modern lightweight trekking boot for fall and winter use, built on the same last as LOWA's popular Focus series. Constructed with a full grain leather upper and inside,  GORE-TEX® Partalana insulating wool/polyester blend fleece lining, this boot will be rugged and warm. LOWA's new slip-resistant G+ outsole features gripping fibers embedded throughout the sole's rubber for tenacious traction on snow and ice.to keep the boot warm, waterproof, abrasion resistant and comfortable. The women's version is built on a women's-specific last.
I'll be wearing a pair of these next fall, for cold weather hunting. They will be available in September, and the great thing about LOWA is that they do not bust down a man's boot and expect women to love them. Nope. LOWA respects women's feet and designs their boots for our size and shape. MSRP: $240. ~Barbara
Smith & Wesson's line of concealed carry clothing for women by Wild Things Gear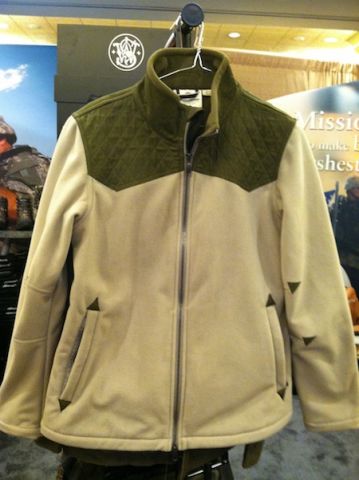 The perfect jacket for all types of weather and CCW, too. Photo courtesy of Britney Starr
The fleece pictured is part of the not yet released products in the Smith & Wesson/Wild Things Gear line of concealed carry clothing for women. Its comfort factor, paired with the functionality of concealed carry specific pockets, grabbed our attention right away. We will anxiously await the release of new products in August, but until then, check out the other fantastic pieces in the Wild Things Gear line. ~Britney 
Cyclops Ener-Pak for recharging electronic devices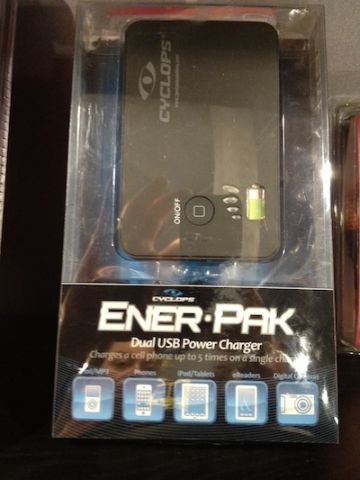 Definitely on my must-have list. Photo courtesy of Barbara Baird
How many times have you been on a hunt, or camping and been watching the battery life on your phone diminish quickly? If you take a Cyclops Ener-Pak USB Charger, you can recharge that phone five times, or hey, you can even recharge your iPad or other tablets. It has two USB ports. You may even charge two devices at the same time.
It weighs four ounces and retails on sale for about $60. ~Barbara 
Smith & Wesson M&P9 Pro Series C.O.R.E.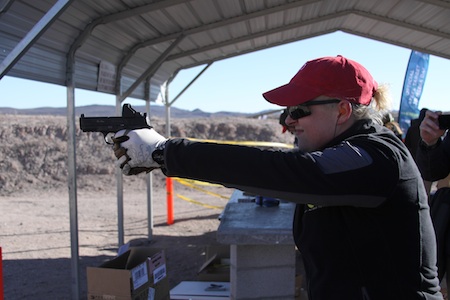 Britney shows good shooting form and it's easy when you've got a gun that is this easy to handle. Photo courtesy of Jason Baird
What we absolutely love about Media Day is the opportunity to shoot new guns. This year, Smith & Wesson introduced its M&P9 Pro Series C.O.R.E. (Competition Optic Ready Equipment). How quickly the trigger returned for another round and wow, these Textured Palmswell grips (the gun comes with three interchangeable grips) fit our hands well in the 9mm model. The C.O.R.E. series is available for around $725, and comes engineered to accept six popular styles of competition optics — Trijicon RMR, Leupold Delta Point, Jpoint, Doctor, C-More STS, Insight MRDS.~Barbara
Otis Technology Tactical Pink cleaning system
Doesn't it look loverly under the glass? Photo by Britney Starr
Otis made this Tactical Pink cleaning system with the female shooter and huntress in mind. It holds similar cleaning components to the Tactical cleaning system, with subtle pink accents to lend a feminine touch. Proper gun cleaning is essential, and we thank Otis for making a kit for the ladies. We also appreciate that all Otis products are made in the USA. MSRP: $59.99 ~Britney
Charging stations in the Press Room during SHOT Show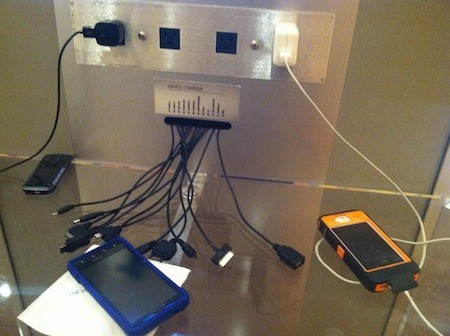 It's the little things that we really appreciated. Photo courtesy of Britney Starr
Seriously. … While on the subject of getting a phone charged,  I wouldn't have made it through a single day without the charging stations provided for us in the Press Room. Live tweeting can really run your battery down! A huge "thank you" to SHOT Show and the NSSF for their attention to detail and this little perk for the press. ~Britney
Sabre Personal Alarm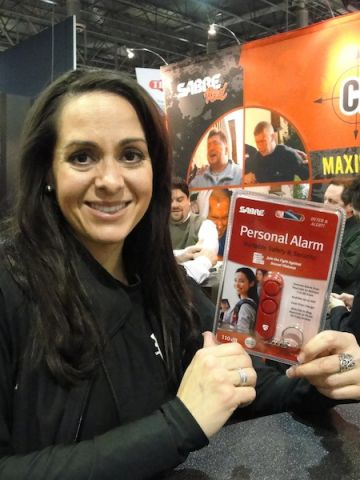 Here's Archangel Tactical's CEO Nikki Turpeaux, with the Sabre Personal Alarm. Photo courtesy of Leia Richardson
Sometimes it's the little things with the loud sounds that can save your life. There are those of us who are not comfortable with the idea, or who cannot legally carry a firearm. And there are those of us who do carry concealed, who still want other options – such as the newly introduced Sabre Personal Alarm. Attach this device to your key chain and you'll be ready to throw out 300 feet of siren sound should you need it. In red. $9.95. ~Barbara
Walther PPQ M2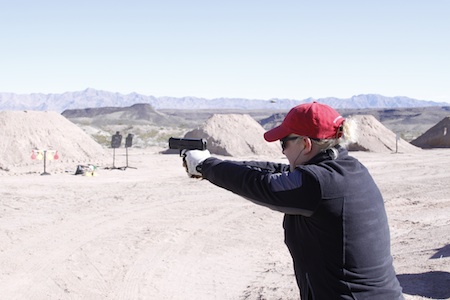 Here's Britney again. She really wants one of these Walther PPQs for CCW. Photo courtesy of Jason Baird
I shot the PPQ M2 in 9mm for the first time at Media day, and instantly fell in love with it. Equipped with an ambidextrous slide stop and the new ambidextrous magazine release button, the PPQ M2 is a perfect fit for this southpaw. At 5.6 lbs., the trigger pull is like buddha. Furthermore, the interchangeable blackstrap allows for easy customization, which is great for lady shooters with small hands. Retails for $699.~Britney
Disclaimer: The WON • This publication receives payment for advertising. • This publication reviews products and provides editorial copy (like all other major publications) because of advertising sold. It does not guarantee a positive review of such products. • If our freelance writers do not pay a full retail price for a product being reviewed, from Feb. 11, 2015, forward, they will explicitly state that in the review. • Unless explicitly stated, any writers at The WON have no affiliation or relationship with the supplier of a product being reviewed. • We generally follow the "if you can't say something nice, say nothing" rule. If we review a product and don't like it, we will either offer constructive criticism as to how to improve said product in print, or we will refuse to review it.
Our privacy policy: At Women's Outdoor News, The WON, we only collect your email address for newsletter subscription purposes or for giveaway opportunities. You may opt out at any time if you decide you don't want to receive the newsletter any longer. We never sell or give your private information to any other party. Not to our advertisers, friends or family. No one gets it. Ever.
Women's Outdoor News, The WON, contains intellectual property owned by Women's Outdoor News, The WON, including trademarks, trade dress, copyrights, proprietary information and other intellectual property. You may not modify, publish, transmit, participate in the transfer or sale of, create derivative works from, distribute, display, reproduce or perform, or in any way exploit in any format whatsoever any of the Women's Outdoor News, The WON content, in whole or in part without our prior written consent. We reserve the right to immediately remove your account and access to Women's Outdoor News, The WON, including any products or services offered through the site, without refund, if you are caught violating this intellectual property policy.