Babbs celebrates 35 years of marriage in a Bootheel dove field with hubby and a Winchester SX3, and recalls earlier dove days.
My daughter got married because I went dove hunting.
You see, I didn't start hunting seriously until about 6 years ago. I'd been out hunting before that, but considered it more of a recreational sport and not a tradition. It didn't call to me. It didn't make me look out windows during the day and wish I were out there, checking game cameras and trails, setting down mineral blocks for does and their fawns, roosting turkeys at night, watching the sky for birds flying. Sure, I'd attend a few writers' hunts here and there and occasionally sit out in the woods with a book – and a gun by my side.
Things changed when Marti Davis asked me to dove hunt with her and a few friends in southwest Missouri in 2008. She reached out to me because of my media connections and we immediately bonded, like friends who had grown up together, a very rare thing. To this day, when I call Marti, she's there and I like to think, vice versa.
During that hunt, my first dove hunt, I realized the importance of the social aspect around hunting – about how it's just natural for women to desire companionship afield, and about how doggone fun it is to be out there with a nice shotgun, bringing down a pan of dove enchiladas – which are delicious, by the way.
During that first dove experience, I met Tammy Ballew – i.e., Camo Mom, here at The WON – and later, I met her son, Travis. I introduced him to our daughter, Jackie, and 8 months later, Tammy and I stood on a pier in Belize and watched as our children tied the knot.
Fast forward
My 35th wedding anniversary just took place in a dove field in the Bootheel of Missouri. My husband, aka Dr. Bomb, and I love to hunt together and I had heard of the great dove hunting in southeast Missouri. I asked around, and my editor at Show Me Missouri magazine (THE travel magazine of Missouri) introduced me to Justin Dobbins, landowner of the finest little farm on the flyway.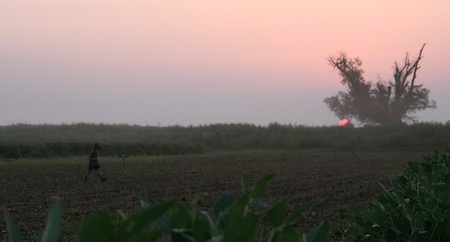 Dobbins Farms
Not only did we get treated to a front row seat in a field that featured formerly irrigated sunflowers that had been recently cut, we saw dove action almost like Argentina crazy. Now, I have only seen videos of Argentina dove hunting, but it reminded me of the frequency of flight of these little great enchilada fillings in Missouri.
We spent 2 sessions in the Dobbins Farms' fields, blasting our shotguns into the sky – poking more holes in the sky than pegging birds. That's why they call it dove hunting. Justin Dobbins and his father, "Big Daddy," have gone to extra efforts to incorporate irrigated sunflower patches in their corn and bean fields. With irrigation ditches and ponds surround the farm, and with its location in the state, it is a natural setting for great dove hunting.
The SX3 and me
I shot a Winchester SX3, courtesy of Realtree, and wowee. What a super slim 20-gauge semi-auto, with a swing that kept on moving and not a kick to be felt. According to Winchester, "If you haven't already heard, a couple of Super X3 20 gauges were used to break the world record for one day dove shooting in Argentina."
Well, I didn't break any records in this dove field, but the gun didn't wear out my shoulder and I didn't wear out the gun.
The SX3 in Realtree Max-4 features slim stock, grip and forearm, along with an ultralight alloy magazine tube and recoil spring system that removes a half-pound of weight (again, according to Winchester). And that's not all. Inside the barrel, Winchester further reduced weight by using a narrower profile and machined rib. The shotgun also comes with a self-adjusting Active Valve, which automatically adjusts the gas pressure for everything from target loads to 3-1/2-inch magnums.
I always consider the recoil pad on a shotgun, and this one does not disappoint. A patented Pachmayr® Decelerator® pad meant I didn't have to wear a pad under my shirt, or a shooting vest. You can adjust the length of pull, because Winchester sends spacers with the gun.
The finish is superb, a camo dip in Realtree Max-4. This is the type of gun you're proud to take out and use. And durable? Absolutley. In fact, Winchester states that its Super X3 mechanism has "undergone testing where a total of 5,000 rounds were fired without a single malfunction."
Not a single malfunction occurred in my dove field, either. This shotgun retails for about $1,130.
So, in a roundabout way … dove hunting makes me think of romance. And dove enchiladas. And days spent with friends and family watching the sunrise and sunset, and always keeping an eye on the sky for when doves fly.
For more information about hunting at Dobbins Farms for doves, call 573-344-3644.