Share the post "Jeanie, Cindi and Brenda win WON and the ultimate huntin' hoodie!"
Loma Gibson, Cindi Sheldon and Brenda Dronen win WON! The 3 lucky ladies will each receive a HCS/WON Huntin' Hoodie.
HERCAMOSHOP and The WON proudly offer the Ultimate Outdoor Huntin' Hoodie for our female friends who love to hunt. We put our heads together and ordered this soft, versatile hoodie from Russell Outdoors for you to wear in warmer weather, or to layer with other apparel in colder temperatures. We added our logos in white, and our names down the sleeves — because we're proud of what we stand for and we bet you are, too. Who better to know about what a woman wants when she hunts than a company devoted to giving women hunters the best selection of outdoor apparel in the world, and an online publication with a passion for women's outdoor news?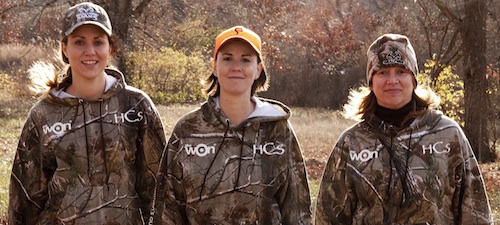 Barb Baird (far right) and her daughter and daughter-in-law have been enjoying the huntin' hoodies this deer season. L-R: Jackie Thompson wears the new Realtree MAX-5 hat. Tracey Baird is wearing the perfect Prois hunting blaze- orange ball cap, and Barb is wearing a reversible Realtree fleece hat in AP and orange. Photo courtesy of Jason Baird
Features include the following:
Material: 50/50 cotton/polyester

Shelly Ray loves her new hunting hoodie. Photo courtesy of Jeff Ray

Weight: 8 ounces
Hood
Rib knit cuffs and waistband
Side seams
Set in sleeves
Front-pouch pocket.
Unisex sizing available in Small through X-Large.
Retail: $39.99
Order your new Realtree AP hoodie.
WANNA WIN WON?
We are thankful for our many relationships with outdoor-women-oriented businesses, such as HERCAMOSHOP, and want to celebrate our new hoodie by giving away 3 hunting hoodies this week! Just tell us by Fri., Nov. 29, 2013, where you'd wear this huntin' hoodie! Enter here or on our Facebook page.
Disclaimer: The WON • This publication receives payment for advertising. • This publication reviews products and provides editorial copy (like all other major publications) because of advertising sold. It does not guarantee a positive review of such products. • If our freelance writers do not pay a full retail price for a product being reviewed, from Feb. 11, 2015, forward, they will explicitly state that in the review. • Unless explicitly stated, any writers at The WON have no affiliation or relationship with the supplier of a product being reviewed. • We generally follow the "if you can't say something nice, say nothing" rule. If we review a product and don't like it, we will either offer constructive criticism as to how to improve said product in print, or we will refuse to review it.
Our privacy policy: At Women's Outdoor News, The WON, we only collect your email address for newsletter subscription purposes or for giveaway opportunities. You may opt out at any time if you decide you don't want to receive the newsletter any longer. We never sell or give your private information to any other party. Not to our advertisers, friends or family. No one gets it. Ever.
Women's Outdoor News, The WON, contains intellectual property owned by Women's Outdoor News, The WON, including trademarks, trade dress, copyrights, proprietary information and other intellectual property. You may not modify, publish, transmit, participate in the transfer or sale of, create derivative works from, distribute, display, reproduce or perform, or in any way exploit in any format whatsoever any of the Women's Outdoor News, The WON content, in whole or in part without our prior written consent. We reserve the right to immediately remove your account and access to Women's Outdoor News, The WON, including any products or services offered through the site, without refund, if you are caught violating this intellectual property policy.