Tips from Rita Schimpff (and Friends) on 'The Art of The Safari' Lifestyle
The art of the safari comes to us not only in viewing the wildlife, but also in the artist interpretations that take on forms from traditional to unique. This art may be styled as paintings, sculpture, books, jewelry, engraving and taxidermy.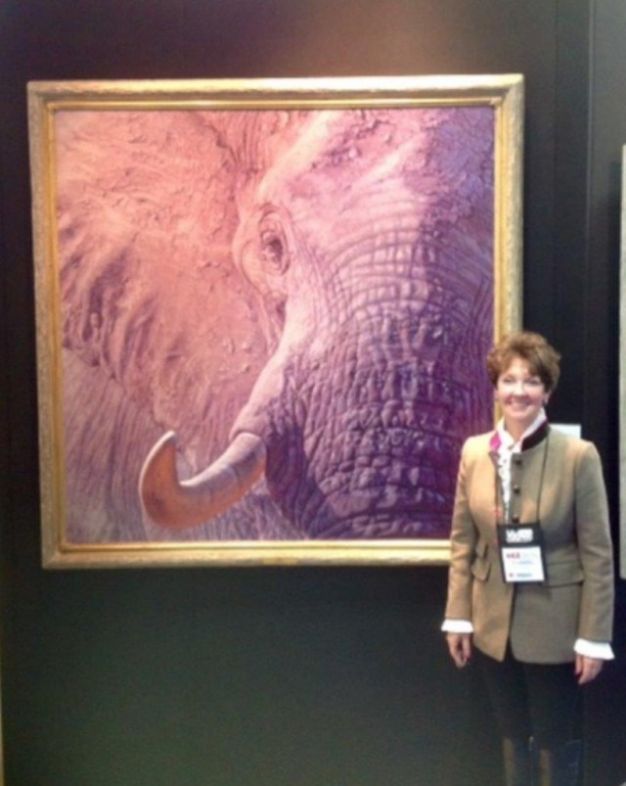 While enjoying the Safari Club International (SCI) Convention 2015 in Las Vegas, I never tired of combing the aisles, filled with oversized art and the chance to hold once-in-a-lifetime firearms. Guns and Art fit for the finest hunt rooms ever imagined. Here I am next to the captivating painting "Tusk" by John Banovich. I stood entranced as I looked into the eye of this beautifully painted creature. "Tusk," the original, is sold; however, a beautiful signed reproduction entitled "Dream Big" is waiting for you at his shop.
Cost: $75, with a portion of the proceeds to support elephant conservation.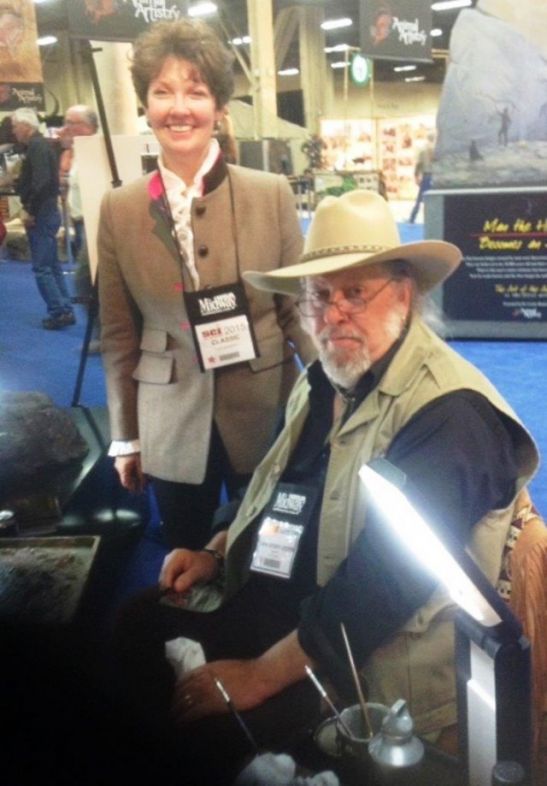 I stopped several times to enjoy watching artist John Seerey-Lester working on a painting of Teddy Roosevelt. You may know John from his first book of paintings, Legends of the Hunt.
A visit to the Beretta booth produced hours of enjoyment for my artistic side as I watched a master gun engraver at work. I stalked him until he finally looked up and smiled at my 3rd visit and said yes to a photograph.
Another master engraver who also was at the convention, but who lives a little closer to home, is Clint Orms of Ingram, Texas, who puts his mark on thoughtfully designed belt buckles of intricate detail.
Clint works in sterling, rose and yellow gold to create handsome works of art. African Big 5, featuring a drop lock Westley Richards ,was a one-of-a-kind custom buckle – but you have to visit his website to see the artistry and styles available, from the Big Five to a Rainbow Trout complete with a bead eye nymph in his mouth!
Setting an interesting display is key to a visual success in a small cabinet, a single room or a huge trophy room.
Instagram is a great venue for creativity and photos. If you visit my posts, on @HuntinginStyle, you'll see that I love to create interesting displays from my collection of vintage sporting memorabilia. I was thrilled that SCI used my photograph above as a banner in Las Vegas and on promotional materials — a step back in time my ancestors would be proud of!
The creative ways we display and combine our safari art, collectibles and taxidermy can make an ordinary room into an extraordinary visual treat that is inviting and also, inspiring. One well-thought-out display in a small room can say as much as a huge trophy room filled with scores of handsome mounts.
Case in point: Utah artist Nicholas Coleman paints emotional scenes of the American West, as well as big game. He also has a keen sense of the natural world that is so apparent in his traditional academic approach to his painting, and also obvious in his handsome studio. He loves and lives with natural history. What is not to love about every detail here? Note the unusual and artistic mounting of the leopard behind the painting. Visit Nicholas Coleman Art.
Take a look at this handsome family room that immediately conveys its owner's passions? Houston designer Donna Vining has managed to combine just the right amount of interest and drama — from a full-sized jaguar to artifacts of the American West, interspersed with antiques, rich wood and a view of the big outdoors. Visit Donna Vining.
Elegant and unique taxidermy display never ceases at Heritage Game Mounts – here, you see a small Reedbok is mounted on black linen toile and surrounded by oak leaves and acorns to stand alone … or looking lovely in a grouping.
Cost: $275
Are you traditional or a little more eclectic with your safari art and trophies?
We would love to know what you think about these different approaches.
About Rita Schimpff

Rita Schimpff is an artist and designer who grew up hunting, fishing and enjoying outdoor life in Oklahoma and Texas, thus developing an early love and respect for wildlife and their habitat. She has carried this love to her art and her long involvement with many local and national conservation associations. As a member of the first Junior League San Antonio Mitchell Lake Wetlands Project, she created its logo and illustrated Mitchell Lake Wildlife Refuge: an Illustrated History. A graduate of Texas Christian University with a BFA in Commercial Art and Textile Design, Rita retired after more than 30 years in an interior design field. She launched her Texas based company, Heritage Game Mounts. She creates elegant, Old-World-inspired panels to display domestic and exotic game. She pens a blog called "Bring The Wild Inside" at the site, and at The WON, that offers ways to bring beauty and balance to the shared hunter/non-hunter home. Rita and her husband, Skip, have made hunting and fishing a large priority with their children. Along with two Boykin Spaniels and numerous adopted rescues, all aspects of hunting are very much a family affair. All of Heritage Game Mounts' products are American made. View all posts by Rita Schimpff →