How to: Lodge Décor to Inspire the Hunt
Successful sporting lodge interiors should create welcome, comfort and inspiration by surrounding visitors with items from nature, the sport they are engaged in and artifacts that promote thoughts of romantic pastimes and anticipation. This can be done with either simplicity or all out elegance in what what we refer to as lodge (or cabin) décor. Go ahead, inspire your hunt this season.
A welcoming fireplace is at the heart of every lodge
This handsome fireplace greets quail hunters before and after the outing at Upland Bird Country in Corsicana, Texas.
The lower ceilings capped with wood beams make the well-appointed gathering room at Joshua Creek Ranch in Boerne, Texas, a more intimate experience to meet other guests before dinner and talk over the day's hunt.
Handsome dry-stacked rock frames the massive double-sided fireplace that showcases 2 full-size rams taken on Trinchera Ranch within an hour of each other.
By repeating the muted earth and sky colors of the antique sporting painting in the chair's hunt fabric, nature is brought inside. Textured colors are also added with the pine mantle and used brick surround, inviting one to sit awhile at Longleaf Plantation in Mississippi.
Incorporating items from nature and artifacts
Combining a colorful antique tapestry with an old pine desk and a bushel basket pair textures against the original 1848 log cabin walls at Prairie Wildlife and immediately relax and recall a simpler time in Mississippi.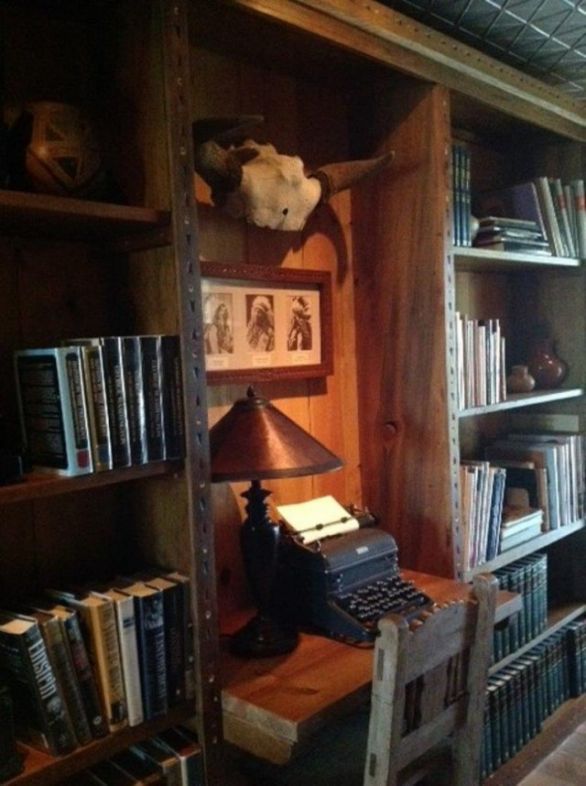 This fine collection of sporting books, placed among vintage items in a Trinchera hallway, transport a reader to another time – perhaps an unfinished manuscript by Hemingway waits for the final keystroke?
Successful lodge décor creates small areas within larger rooms for intimate conversations, reading or writing.
Dried flowers, baskets, creels & reels, shell bags, art, books, decoys and taxidermy
I bet you have a 3 or more items that you could group by a chair in your home to transport you to a sporting destination in the planning.
Give it a try!
For elegant antler display, sporting art & accessories visit our shop at Heritage Game Mounts.
Editor's note: We wish to thank Rita for her many fine contributions to this niche topic of decor and design. This column is her last one, as she moves on to new projects. We wish her all the best, and also, please check out her other posts from "Bringing the Wild Inside" here at The WON.
About Rita Schimpff

Rita Schimpff is an artist and designer who grew up hunting, fishing and enjoying outdoor life in Oklahoma and Texas, thus developing an early love and respect for wildlife and their habitat. She has carried this love to her art and her long involvement with many local and national conservation associations. As a member of the first Junior League San Antonio Mitchell Lake Wetlands Project, she created its logo and illustrated Mitchell Lake Wildlife Refuge: an Illustrated History. A graduate of Texas Christian University with a BFA in Commercial Art and Textile Design, Rita retired after more than 30 years in an interior design field. She launched her Texas based company, Heritage Game Mounts. She creates elegant, Old-World-inspired panels to display domestic and exotic game. She pens a blog called "Bring The Wild Inside" at the site, and at The WON, that offers ways to bring beauty and balance to the shared hunter/non-hunter home. Rita and her husband, Skip, have made hunting and fishing a large priority with their children. Along with two Boykin Spaniels and numerous adopted rescues, all aspects of hunting are very much a family affair. All of Heritage Game Mounts' products are American made. View all posts by Rita Schimpff →
The Conversation