It's a highlight of my year, attending the National Shooting Sports Foundation's annual Shooting, Hunting, Outdoor Trade Show in Las Vegas in mid-January. This year, several members of TeamWON scoured the aisles to find gear and guns that you, our women readers, might like to add to your inventories. Please join me in this recap, this photo feature, of my time at SHOT Show 2016.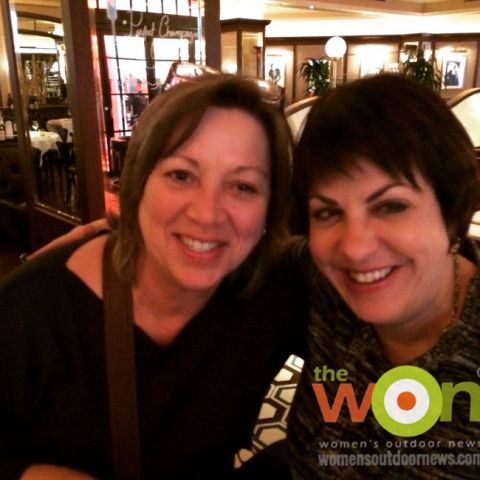 Las Vegas is known for lookalikes, and one of my best friends looks a lot like Liza Minelli. We have fun with that, and Marie D'Amico is a good sport. She's also on Kahr Arms' pro staff. (Jason Baird photo)
We always attend Media Day at the Range, the day before the doors officially open at SHOT. We visit our sponsors to see new products, and I believe this Smith & Wesson SW22 Victory Target pistol, which comes with a custom Volquartsen barrel, will be a huge hit. I want one. MSRP: About $800 (Jason Baird photo)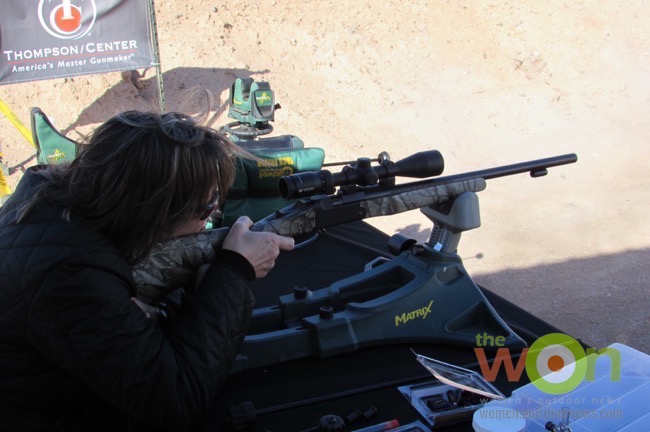 Another really nice gun introduced this year is the STRIKE muzzleloader, by Thompson Center Arms. It's a striker-fired muzzleloader with the innovative Adapt™ breech system, Armornite™ barrel coating, and legendary T/C barrel. MSRP: $499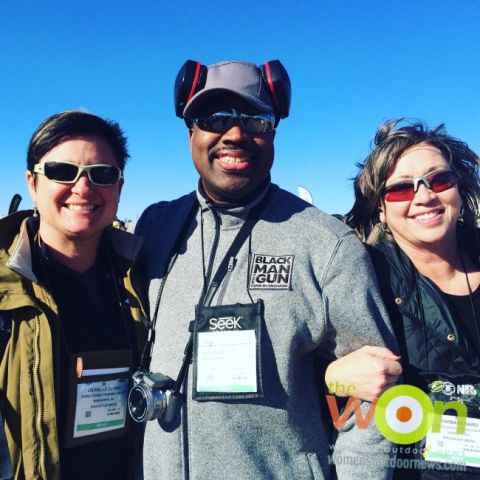 Really, it's meeting up with old friends that makes the SHOT Show so special to me. Here I am (right) on the range with my buddy, Black Man with a Gun (Kenn Blanchard) and with our new managing editor (Michelle Cerino). We compared notes as to what we'd seen and what we liked. Check out 2AO, a grassroots movement that is reaching out to women and other minorities this year, to intro them to the shooting sports. Kenn is the new veep. We'll be following that movement closely, and might even be on a bus to DC! (Jason Baird photo)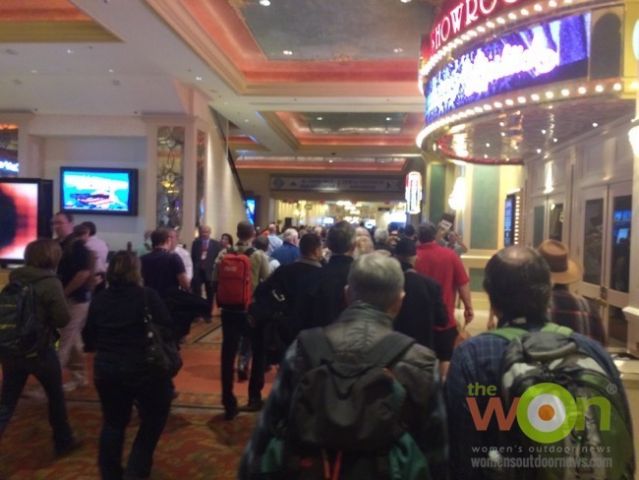 They opened the floodgates and we entered. Day #1 of SHOT Show, entrance from The Venetian.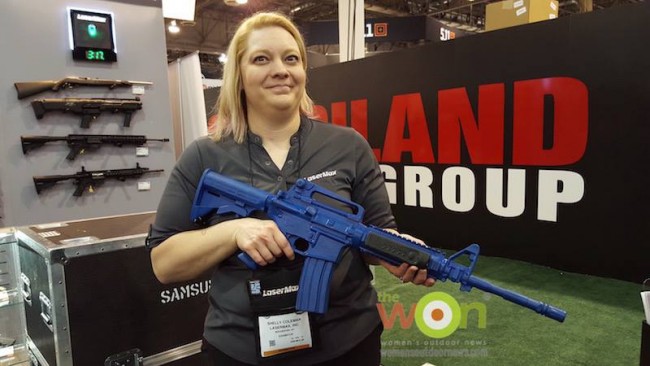 Shelly Coleman, of LaserMax, Inc., holds a dummy AR equipped with a Manta Ray — a rechargeable light for your AR; feather weight, quickly detachable green light. User variable light intensity. Attaches to Mil Std 1913 (Picatinny) rail. MSRP: $219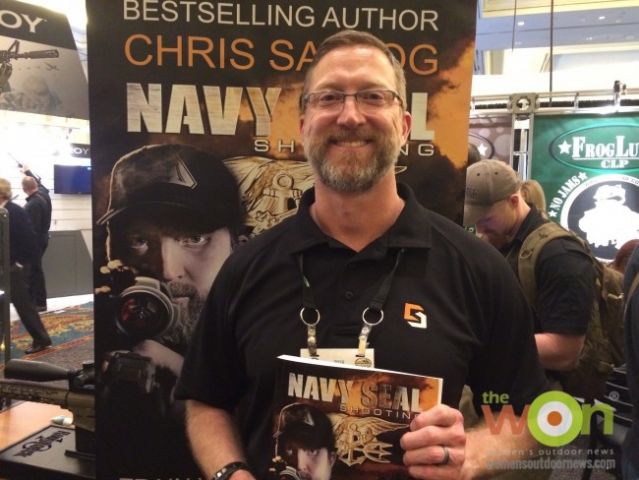 Remember the shooting tips from a Navy SEAL that we ran last year? Meet the author, Chris Sajnog, "Navy SEAL Shooting." We got a little time to catch up with him and talk about training women to shoot. Very inspiring.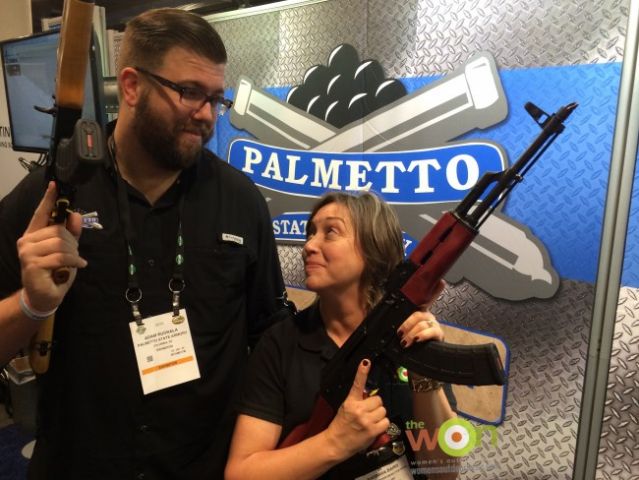 So, I'm 5'7″ and Adam Ruonala? He's 6'10" tall! Adam promised to send me this red AK-47. We'll be highlighting some of Palmetto State Armory's guns, because we think women will love AKs and ARs built by this fine company. (Jason Baird photo)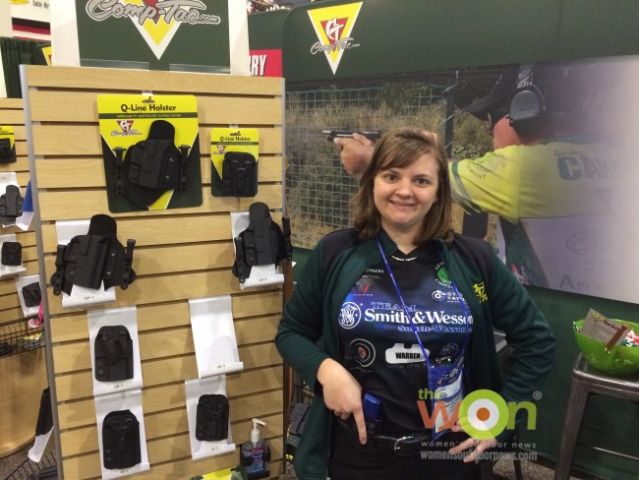 The lovely Randi Rogers showed us the features of Comp-Tac's new Q-Line of holsters. The QI is an all Kydex inside-the-waistband holster. The QI will accommodate multiple firearms in each size, is easy-on and easy-off and will fit well in multiple carry positions. MSRP: $45 to $50 And more news … Randi will be rejoining TeamWON to write about personal defense and shooting tactics.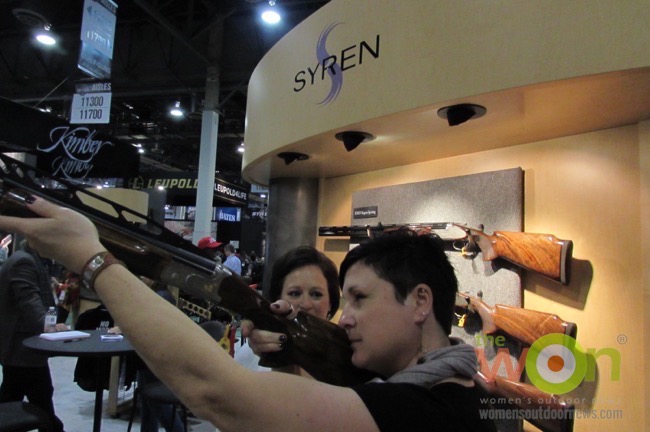 Michelle Cerino looks down the barrel of Syren's new Tempio Trap over-and-under shotgun, designed by women for women. According to Lynne Green, ambassador for Syren, women are really loving the look and feel of this gun. MSRP: $6395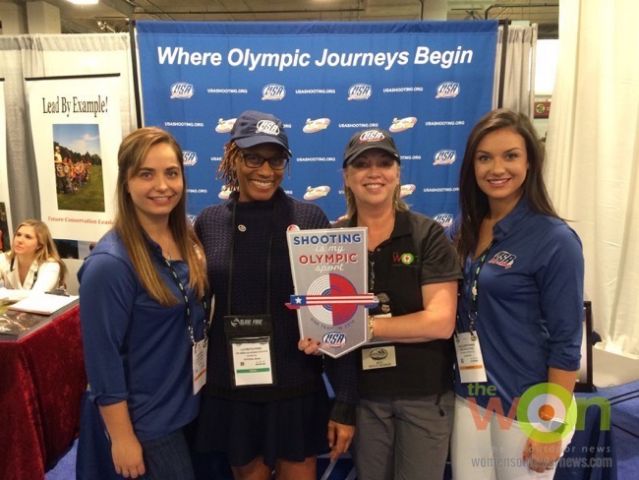 It's always a highlight to meet with Olympic shooters, and here we're holding a sign for USA Shooting's new campaign that indicates that "Shooting is my Olympic sport!" In this photo, Lucretia Free (publisher, The American Woman Shooter magazine) joins me as we are flanked by Kimberly Bowers and Kayle Browning — shotgun shooters. Watch for profiles on our women athletes in the run-up to the Summer Games in Rio. (Kevin Neuendorf photo)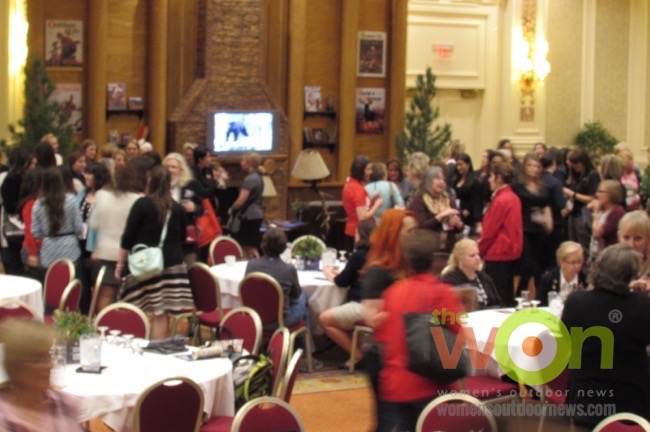 Members of TeamWON helped to host the first-ever SHOT Show women's Meet & Mingle, where Remington Outdoor Company and the Women's Leadership Forum (NRA) provided refreshments. Watch for Michelle Cerino's photo feature on this event later this week.