Vermont Outdoors Woman is sponsoring an outdoor education retreat for adventurous women 18 years and older in Canaan, Vermont on September 15-17, 2017.  Fall Doe Camp will offer three days of classes to be held in the woods, in the lodge, on the lake and on the sandy beach as foliage season begins in the Northeast Kingdom of VT.
We will be returning to Jackson's Lodge & Log Cabins, a 58 year family tradition providing heated lakefront cabins on beautiful Lake Wallace. Located in Vermont's moose country, Jackson's Cafe is a local favorite for homemade breakfast and baked goods (including gluten free). Proprietor, Gloria Jackson and her staff will host our group with healthy meals in a friendly, relaxing atmosphere. Don't miss our venison BBQ on Saturday evening.
The lakeside log cabins at Jackson's Lodge have been a favorite destination of savvy vacationers for decades. The rustic cabins include all the modern necessities you'll need during your weekend retreat. Campers can bring sleeping bags or rent linens. For the more hardy campers, bring your tent and save money by camping out.
The weekend offers 4 sessions with over 30 classes to choose from. Classes are taught by our all volunteer, experienced and professional instructors. Campers can choose from a list of popular classes that include: Archery, Birding, Firearms Marksmanship & Safety (Muzzleloader, Handgun, Rifle and Clay Shooting), Outdoor Cooking, Survival Skills, Log Rolling, Fly Fishing,  Boat Fishing, Deer Hunting, Ax Skills, Camping, ID Ferns, Trees & Wild Edibles, Wildlife Photography, and Panning for Gold.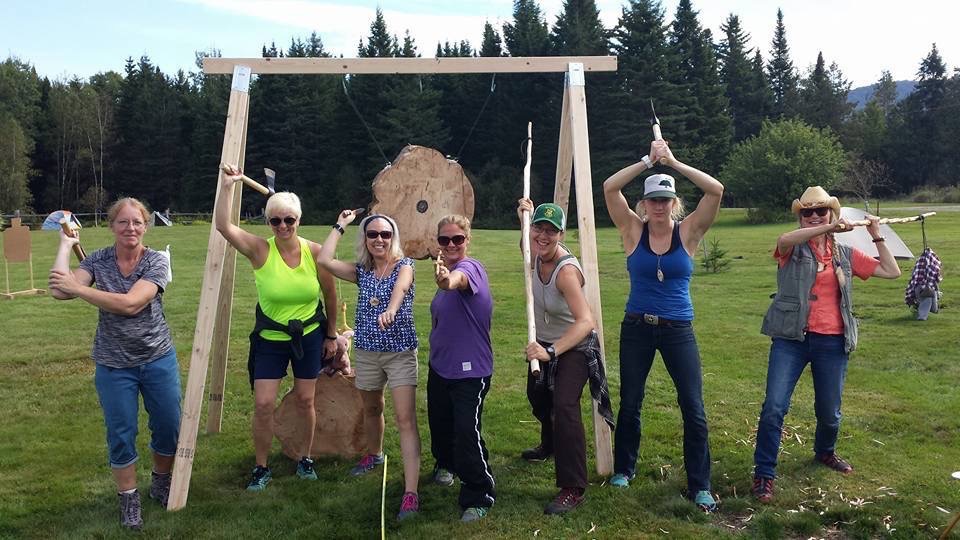 Newer classes include: Advanced Shotgun, Basket Weaving, Dowsing, Building a Harmonious Labyrinth, Coping With Critters While Camping (bears, raccoons, blackflies, ticks, etc), Chainsaw Skills & Safety, Land  & Water Mobility Skills, Fitness and more. Early morning (before breakfast) options include yoga, birding or a morning run and swim.
Between classes there will be ample free time to explore or just relax on the sandy beach or the cabin porch. Kayaks are available on site or you can bring your own gear. The evening campfires are always popular for socializing. A large raffle will be held on Sunday after lunch with thousands of dollars worth of items going to the lucky winners.
Don't miss the opportunity to receive affordable outdoor education in a stress-free, supportive environment. Cost for the weekend program is $390. Discounts are available for daily drive-ins, camping out, mother/daughter teams, and girlfriend groups of three or more. Learn more about discounts on our registration form.
Sponsored in part by Jackson's Lodge, Jackson's Lodge, Vermont Fish & Wildlife, Vermont Outdoor Guide Association, R & L Archery, Vermont Field Sports and Waitsfield Telecom. We are also accepting new sponsors.
Be sure to thank our sponsors for their generous support.