Michelle Cerino
---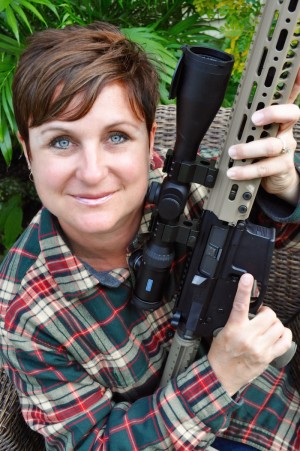 A girlie girl who grew up in Ohio, happy playing with her dolls and barbies, Michelle Cerino, author of the column "She Shoots 2," sponsored by Crossbreed Holster, never thought she would lead the life she does now. A mother of 2 boys, Michelle has been right there beside them hunting youth deer seasons, plinking pop cans with .22s and being involved in Boy Scouts since 2004.
Michelle is the president of Chris Cerino Training Group LLC, a firearms training company she built with her husband Chris in 2011. She manages the business, keeps the website and Facebook updated and assists in instructing civilians and law enforcement. Her path in the firearms and outdoors industries is ever progressing. She is writing, hunting, competing and doing contract work for major manufacturers.
When not working, Michelle competes in prestigious shooting events, such as the Bianchi Cup in Missouri, and major 3-Gun matches nationwide. If not shooting, you might find her hunting hogs in Texas, whitetail in Ohio or ducks and upland birds in North Carolina.
Michelle is a proud Life Member of the NRA, and also belongs to NSSF, ILEETA, and SEOPA.  Michelle can be contacted at michelle@cerinotraininggroup.com or on Facebook.