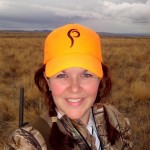 A certified paralegal by trade, Michelle is well at home in the concrete jungle of Portland, Oregon. Although she is raising her young family in the city, Michelle's heart belongs to the great outdoors.
An experienced huntress, Michelle has pursued big game, upland birds and waterfowl in North America and Africa. Michelle also is an avid archer and competes in 3D archery tournaments throughout the Pacific Northwest. Her biggest passion in life is sharing her love for the shooting sports with women and children, especially those new to the outdoors.
Michelle is an active volunteer for the Oregon Department of Fish and Wildlife (ODFW) Outdoor Skills Program.  Her primary responsibilities with ODFW are serving as a shot gunning coach and dog handler/guide for the Department's upland bird hunting clinics.  Michelle also volunteers each year for the Becoming an Outdoors-Woman and Women in the Outdoors programs. She is a current member of a number of national conservation organizations, and is a past director for the Southwest Washington chapter of Safari Club International. Additionally, Michelle is on staff with several outdoor companies promoting women's hunting, including serving as event staff for Próis Hunting and Field Apparel.
You can follow Michelle's outdoor adventures on her blog, City Girl in Camo.  In addition, her writing and photography have been published in a number of outdoor journals including "On Target", "The Retriever Journal" and "African Hunting Gazette".  Michelle has also been a repeat contributing guest on "Outdoor GPS," a live hunting and fishing television program broadcast on Comcast SportsNet NW.
Michelle's contributions to the hunting industry have led to nominations as a finalist for the 2011, and 2012 Próis Hunting and Field Apparel, as well as the 2013 Extreme Huntress Award.