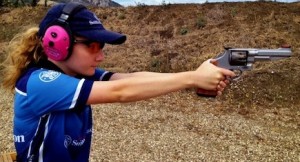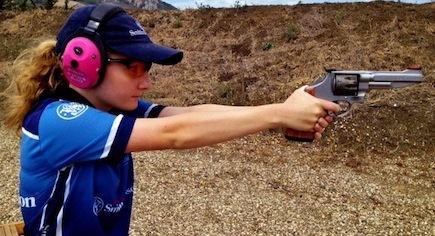 Photo courtesy of Susan Smith
Born and raised in California, teen shooter Molly Smith moved from the busy city to the close-to-countryside at the age of 10. Her dad took his family to a shooting range so that they could get used to the concept of firearms. Molly was spurred on by the Range Officer telling her, "Oh, I bet you shoot like a girl!" and with one shot she was hooked. In fact, she wanted to "shoot like a girl!"  She started with .22 rifles, then .22 pistols, and now shoots her favorite – .38 revolvers in competitions.
At 11, Molly shot her first major match – Steel Challenge. She now shoots for Team Smith & Wesson, and prefers a 627 Smith & Wesson iron-sighted revolver. She attends several matches each year, and loves to write about them The WON, in her column titled Millisecond Molly. Molly also has a personal blog, The Molly Minute.
She also loves to talk to veterans of the sport because they have so much experience to learn from. One of the highlights for her in competitive shooting world is getting to women and juniors who are interested in shooting. Molly says, "I'm familiar with the height and strength differences among men, women, and juniors, so I can understand the issues faced by women and junior shooters wanting to take part in the fun of this sport! At four-foot 10, I pretty much consider myself an expert on shooting for shorties!"