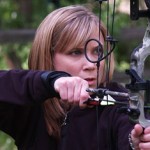 Sara Ahrens is a Police Sergeant in Illinois with 17 years of experience. Highlights of her career include assignments in Training, SWAT, Bike Patrol, Vice and Patrol. Sara ran training for 4 years, and some of her responsibilities included analyzing officer's use of force and developing training based on those trends, running the firearms program as the Range Master and the maintenance of all weapons.
Sara served 11 years in the US Army and Army Reserves. She is an avid hunter and pro-staffer for Pròis Hunting and Field Apparel for women. Sara participated in the third season of the History Channel's Top Shot and has appeared on several episodes of the Outdoor Channel's Shooting Gallery. In addition to writing "OffBeat" at The Women's Outdoor News, Sara contributes to Beretta USA's blog.
Sara is married and has 2 children. The next chapter of her life will include spending more time with them before sending her daughter off to college in the fall. In addition, Sara will be 10-42 (ending her watch) from law enforcement as she transitions into a new career. In 2014 Sara will be training concealed carry and tactical courses through Devil Dog Arms and Apocalyptic Defense Development. She is looking forward to the new year, and a change in scenery!
Sara would like to thank Barb Baird, Britney Starr, and her column sponsor Randi Stitt from Armed in Stilettos for their continued support through this transition.