Going to the birds: Nazzaro rescues and photographs Eastern screech owls
Another cold January morning in New England brought us another hidden gem. This is an Eastern screech owl (grey phase) getting some warmth from the early morning sun. He has found a perfect little spot here in Rye, N.H., and is causing quite a stir amongst the locals. Schoolchildren have come to see him along with a lot of bird photographers.
I have my friends from New York – Marion Bayly and Darla Oathoutto – and I thank them for inviting me to come along. Especially, a thanks to Sue McGrath from the local birding clan. She is the best of the best when it comes to birders!
Now, about the birds. This owl has been coming to this spot for a little while, becoming a regular to this perfect tree for him as he is in his natural camo! These little owls can be very tricky to approach. First … do not slam your car door when getting out of your car; shut it very gently. They will pop back down into the tree or even worse if you disturb them too much or try to get too close. You will have lost a shot and even worse, disturbed the bird to that point of flying away. Definately a no-no.
Tripods also can disturb the birds, so fold them out and attach your camera back by the car and let the car be your blind of concealing that movement. I stayed about 20 feet away and shot this photo on a tripod. It was shot with an Olympus E3 with a 35-100mm F2 and a 2x teleconverter bringing me to a 400mm F4. To get more detail in the tree I was more up around F5.6-F8 400 ISO and used a little ev step +.07.
This little owl reminded me of my six-year stay in Florida when I rehabilitated an eastern screech owl (red phase) back to health. He flew into the side of a car at night and a friend of a friend brought him to me. He was with me for two weeks until he could fly again. His right wing was sprained so he made a quick recovery.
I wanted to share a couple of photos of him with you also so you could see the grey phase and red phase of this neat little owl. I felt that it was a honor to heal him and everything happens for a reason; I was meant to do it. We became close and I named him "Nischkada."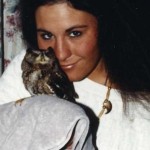 I gave him water from a medicine dropper and caught insects for him to eat (also a few baby mice). He was sweet to me and he did let me know when he was ready to go home. After he could fly again, he started to get feisty and lunged at me when I went to feed him the last night. He was letting me know he appreciated me. but after all he was wild and wanted to be wild again. The next night I let him go off my arm and watched him fly off into the sunset over an orange grove in Eustis, Florida. It was a spectacular site and a wonderful experience knowing he went home healed and got that second chance of life.
~Kathryn Nazzaro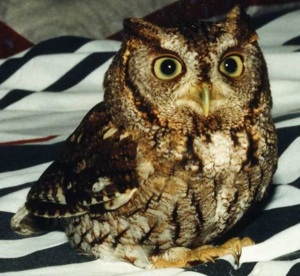 Kathryn Nazzaro works for Hunt's Photo & Video in sales. In fact, she was "top sales person" for 2007 and 2008.
Kathryn says, "For as long as I can remember, I have loved the outdoors and all the beauty it has to offer. I started exploring the outdoors at the age of three, by catching snakes, frogs, turtles and birds. I began fishing at my "Nana's" camp in Raymond, N.H., from the dock or by rowboat all by myself. I'd row across the lake to an island to eat the wild blueberries.
"Loving nature and being fascinated by it has shaped my life into how I live today. The outdoors is my church. I have grown to love outdoor photography and have been active in this area for 17 years. Teaching myself by books and lots of practice has brought me lots of great photos and experiences to remember. Being onboard with Hunt's Photo and Video sales team has introduced me to a lot of great outdoor photographers across the country."
About The WON

The Women's Outdoor News, aka The WON, features news, reviews and stories about women who are shooting, hunting, fishing and actively engaging in outdoor adventure. This publication is for women, by women. View all posts by The WON →
The Conversation