Kim Rhode debuts 3-D hunting and shooting iPhone game
Kim Rhode, the most decorated female shooter in U.S. Olympic history, is launching her new iPhone game, which allows players to experience the thrills of hunting and shooting in 3-D.
"Kim Rhode's Outdoor Shooting" was developed in coordination with Ethan Nicholas, renowned iPhone application developer and president and founder of Naughty Bits Software LLC. The game features hunts for white-tailed deer, grizzly bears and wild turkeys and allows users to hone their shooting skills with pistols, rifles and shotguns.
"iPhone gamers will love the game's unbelievably realistic hunting scenarios," Rhode said. "Natural sound effects and eye popping 3-D graphics will make players feel like they're in the middle of the woods."
The combined talents of Rhode and Nicholas have produced what gamers believe is one of the most exciting, challenging games to hit the iPhone. Rhode, an avid hunter who has medaled in four consecutive Olympics in double trap and most recently skeet, provided expert advice on the hunting and shooting aspects of the game. While Nicholas, who created 2009's mega successful iShoot app, developed the settings that will immerse players in "Kim Rhode's Outdoor Shooting."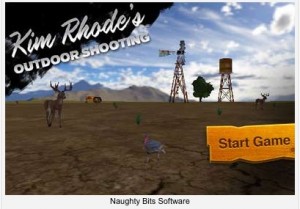 "Kim's name and experience are both tremendously valuable," Nicholas said. "In addition to being an incredible shooter, she is also an avid video game fan, and we are both very excited for her to star in her own game."
"Kim Rhode's Outdoor Shooting" iPhone app is available for $2.99.
About The WON

The Women's Outdoor News, aka The WON, features news, reviews and stories about women who are shooting, hunting, fishing and actively engaging in outdoor adventure. This publication is for women, by women. View all posts by The WON →