Babbs in the Woods: On lacy camo things and 'Hatchie Bottom' lounge pants
My pal NorCal Cazadora sent me an ad for camo underwear, and railed on just a little bit about the advertiser proclaiming this is "the best looking camo ever!" I looked at it, and its online sales flyer touts a Weber's Naked North Pink Camo Baby Doll Set and Hatchie Bottom Men's Lounge Pants.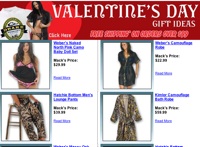 We all know that no serious huntresses would be caught wearing that itchy, lacy stuff under our real camo when out in the woods or field. But, that whole Hatchie Bottom thing made me laugh because it reminded me of a creek story.
When I worked as a newspaper reporter and had my own column I often went out with my "sources." In this case, it was Ethelyn Ammerman, an octogenarian who knew where the bodies were buried – like in one case, Valentine Branson's body, the founder of Branson, Missouri, and he wasn't lying anywhere near Branson.
One day, Ethelyn and I went out to visit a guy named Junior and he took us out in an old car that didn't have brakes, and drove us across a field and down to a creek to see where there had been a little Civil War skirmish, up near Owensville, Mo. And, in the meantime, he explained the reason for the nearby creek's name. He said, "It was named 'Hatchie Creek' 'cuz a family there had a bunch of kids and they all had head lice, you know, the 'hatchies.'"
And these kids all went to a local one-room schoolhouse with Junior in the late '50s.
With that in mind, I certainly wouldn't want my husband to wear those pants. Talk about itchy.
~Barbara Baird
Twitter: http://twitter.com/babbsbaird
Facebook: http://facebook.com/babbsthewon
About Barbara Baird

Publisher/Editor Barbara Baird is a freelance writer in hunting, shooting and outdoor markets. Her bylines are found at several top hunting and shooting publications. She also is a travel writer, and you can follow her at https://www.ozarkian.com. View all posts by Barbara Baird →
The Conversation