Babbs in the Woods: There are boobs and then, there are boobs
Sorry, but if you wanted a copy of the Canadian women's "Bold Beautiful Biathlon" calendar in which the women's team posed nude to raise funds for the Winter Olympics now ongoing in Vancouver, it's sold out. On their calendar website, it states, "Our goal is to empower and inspire women and girls by expressing the beauty of a healthy, athletic body."
I haven't seen all the months of the calendar, but I bet you're going to think this former Sunday School teacher is going to throw a little hissy fit here about this display of feminine pulchritude combined with guns.
If so, you'd be wrong. This doesn't bother me. I'm not going to buy it, it's sold out. Also, I wouldn't have purchased it. But, I enjoyed the movie Calendar Girls, even though those babes were older than these women. They raised money for a good cause (a memorial sofa for visitors in a cancer ward in the hospital where one of the women's husbands died) by using the edginess of nudity combined with artful poses with kitchen appliances and flowers.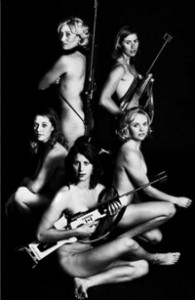 And then there's Benelli with the Legacy gun campaign. Artful and nice metaphor – graceful curves and engraving meshed with a woman's curvaceous tattooed body. Nice blend and makes the point.
And then, there's the Field & Stream yearly Booth Babes comic relief piece. Last year, they ran it on YouTube. The Booth Babes know what they're doing. They are models who work trade shows wearing very little and showing off beautiful bodies and often, some oh-my-goodness work by plastic surgeons. However, where I have the problem is not that the women don't have a clue about what they are pushing – other than sex appeal. They are being made fun of as ignoramuses about guns by guys in the industry who should know better. For Field & Stream editors, it's a game. Let's make fun of the big booby babe and see if she knows what caliber gun she'd take afield to hunt deer. Oh, and let's giggle like a little girl when she says something so wrong.
Turn the tables. What if the Booth Babe said, "And now, Colin, I'd like to ask you a question. Do you prefer Manolo Blahnik Suede d'Orsay or Louis Vuitton exotic leather with tribal-inspired fringes for a typical Saturday evening cocktail party in Manhattan?"
And Colin might say, "Uh, let's see … that's a good question. I don't usually wear heels, but I guess if I were going out, I'd prefer a basic black pump, one-inch heel, because that just goes with everything." And the babes would just chortle and dilate their pupils at him.
Hey … look at her finger!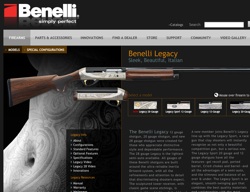 This year's contribution to the Booth Babes slide show includes a photo of a woman gripping a semi-auto pointed toward the ceiling, by her head and with her finger on the trigger – surrounded by people. But, you would think the Park Avenue crew would know how to set up a proper photograph, employing gun safety rules. I guess they weren't looking at her finger – either during the photo shoot or the editing process? Or even worse, they used the shot to prove her lack of knowledge … and my point.
~Barbara Baird
Twitter: http://twitter.com/babbsbaird
Facebook: http://facebook.com/babbsthewon
About Barbara Baird

Publisher/Editor Barbara Baird is a freelance writer in hunting, shooting and outdoor markets. Her bylines are found at several top hunting and shooting publications. She also is a travel writer, and you can follow her at https://www.ozarkian.com. View all posts by Barbara Baird →
The Conversation