Muzzy introduces a new line of carbon arrows
Carbon arrows are becoming more and more popular among both bowhunters and bow fishermen and for a good reason. They produce an accurate and consistent arrow flight, which is vital for penetration both on land and in the water. The super straight and strong carbon arrows recover quickly off the bow creating better arrow flight and they won't splinter or break easily. They also handle a wider range of bow weights and will shoot very well off many different bows.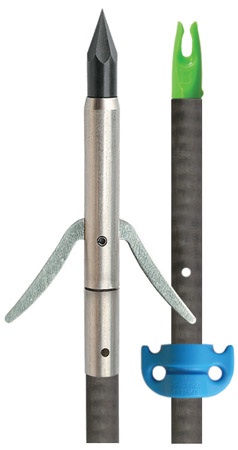 For these very important reasons, Muzzy is now offering a carbon version of almost every fiberglass arrow available as well as carbon shafts for those who like to make their own carbon arrows. Featuring a 5/16th carbon shaft, Muzzy models include the 1200-C-5/16, 1220-C, 1220-G, 1220-CSS, 1220-GSS, 1221, and 1221-SS; and in the 22/64th carbon shaft, models include the 1200-C-22/64, 1218, 1218-SS, 1226-SS crossbow bolt, 1295 and 1295-X Gator Getter arrows.
Muzzy beefed up and strengthened the nock area of these shafts to increase nock retention, prevent shaft splitting and allow the use of indexable, tunable nocks for quick nock replacement and tuning.
The Muzzy Carbon Crossbow Bowfishing Arrow will be fitted with a brass collar to accept any standard 5/16″ bowfishing point and will only be available with a safety slide.
All arrows will feature solid carbon composite construction for increased straightness, more strength and no bending. They are the only bowfishing arrows with tunable knocks for easy push-in pull-out knock replacement with no adapters or glue. The shooter can easily replace them on the water and spend less time tying on arrows and more time fishing, especially during tournaments when time is limited.
For more information on Muzzy products, call
1-866-387-9307, or check out www.muzzy.com
For a higher resolution image, please email
stephanie@mallorycommunicationsinc.com.
About The WON

The Women's Outdoor News, aka The WON, features news, reviews and stories about women who are shooting, hunting, fishing and actively engaging in outdoor adventure. This publication is for women, by women. View all posts by The WON →