Babbs in the Woods: He was a 'lusty wench'

He was a big man wearing a mighty big tee shirt. It read, in bold letters across the front, "Lusty Wench!" He was spotted wearing this shirt in public in our local Walmarts, as the locals call it.
We're still snickering about that one. I snicker when I see tee shirts that outdoor folks wear that proclaim to the world that they are deer, bass, you-name-the-wild-game slayers. That's as bad as grown men wearing their favorite NFL team's jacket everywhere. No actually, it's worse. Because you know those guys aren't actually playing linebacker for the Rams, but some of these folks are actually out there in the woods – with the whole slayer attitude that frankly does not help educate the general public about why we hunt.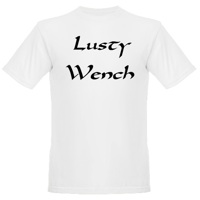 Why should we care about what the general public thinks? Because about 60 percent of them can be swayed one way or the other, either for or against hunting. It's the same reason we don't wear dirty, bloody camo to fast food restaurants … or anywhere in public if we don't have to wear it.
I just saw a shirt for toddlers that read "Chicks love me. Deer fear me." Duh, if you're a cute kid, most chicks will love you. If you are a Homo sapiens, most deer will fear you. What is the big deal about proclaiming to the world that deer fear you? Hey, feral cats fear me. Squirrels fear me. That armadillo in my yard feared me the other day. And not because any gun came into the equation. They just fear me. Wow! With so many animals in the animal kingdom, like the brown trout in the stream, fearing me, I must be mighty powerful. Or, at least I could run around Walmarts in a shirt that makes that point.
I like the tees that state something simply, like "Glock." Makes people wonder. And, it beats "Lusty Wench" any day.
~Barbara Baird
Twitter: http://twitter.com/babbsbaird
Facebook: http://facebook.com/babbsthewon
About Barbara Baird

Publisher/Editor Barbara Baird is a freelance writer in hunting, shooting and outdoor markets. Her bylines are found at several top hunting and shooting publications. She also is a travel writer, and you can follow her at https://www.ozarkian.com. View all posts by Barbara Baird →
The Conversation