GEAR COURT: The Shooting Star chest-backpack from Fishpond rocks on the stream

As a fly fishing guide, I demand more from a fly fishing pack than your average person and I love Fishpond's Shooting Star. I received this vest as a Christmas gift and I am very pleased with it. I have this pack in blue and it is a really attractive, technical and comfortable pack. Fishpond describes it as "a large volume backpack with the rugged and guide-tested Windwalker-style chestpack … sized for the steep and long treks into remote and crowdless terrain." I really like the ability to use the backpack and vest portion of this pack separately. I can remove the vest and use it for shorter walk wades or I can use the backpack separately for hiking and daytrips. However, this pack functions at its very best with both elements together.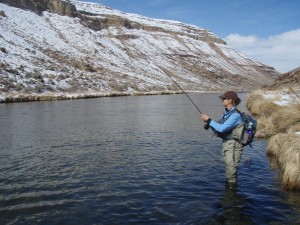 I have used this pack on rugged all-day adventures and it is the perfect size to hold everything I need and more. Both the backpack and chestpack have many, many compartments and once I finally remembered where I had put everything, everything I needed was within easy reach. As a guide, I not only need to provide for my own needs, but also for the needs of my clients providing them with raingear, extra layers, water, lunches, first-aid kits, et cetera. In other words, I have to pack everything that up to three clients might need to be comfortable, happy and well outfitted for an entire day of fly fishing. This pack was much more comfortable weighted down than my last pack was with its well-padded straps and back. In my last pack's defense, I am sure I carried more weight than it was meant to carry, but my shoulders always hurt after a long day of guiding with it. My Fishpond can carry way more gear, but has not yet made my shoulders sore.
I love the exterior drink compartments and pouch for a water bladder, which keeps water easily accessible and not buried in my pack. The chest pack is expandable to create even more room when needed. I fit three fly boxes in the chest section alone and it has a zip down fly bench with replaceable foam that I keep my most used flys on. It has proven to be a very handy rigging station and the foam is replaceable when it wears out. Bustier women than myself may not like the design of the front chestpack because it already sticks out fairly far on me and I have a smaller chest.
Also the Shooting Star is a bit harder than other packs I have owned to get on and off; there are two buckles that need to be opened to remove or to put it on and they can be hard to reach. For me its positive features greatly outweigh these small complaints. I definitely recommend this pack to any hardcore flyfisher that needs a pack to handle backcountry adventures and especially to guides.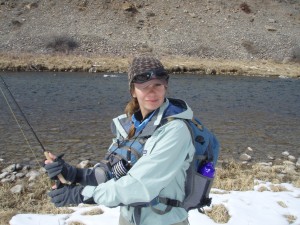 I have been very impressed by Fishpond's vests. They are high quality and durable and there are several styles specifically tailored for women, though most can be used by either sex. The Wildhorse Tech Pack from Fishpond is a very similar pack with two chest compartments rather than one; my fiancée fishes this pack and really likes it. I would have probably gotten this pack because a lanyard can hang neatly between the compartments rather than less conveniently off to the side. However I didn't want to be his twin and this pack only comes in one color. Both packs retail for about $200. You can find Fishpond online at http://www.fishpondusa.com/. Thanks for reading and thanks for the great gift, Mom! ~ Katherine Browne
About Katherine Grand

Katherine Grand pens "DamselFly Fisher" and works as Pro-Staff and Dealer Relations Coordinator at Prois Hunting and Field Apparel in Gunnison, Colo. She also guides in fly-fishing waters near Gunnison. View all posts by Katherine Grand →
The Conversation