Casting for Recovery partners with Temple Fork Outfitters to continue to help breast cancer survivors
Manchester, VT – April 5, 2010 – Casting for Recovery (CFR), a national, non-profit support and educational program for women who have or have had breast cancer, is pleased to announce that more women will be able to experience the healing benefits of a Casting for Recovery retreat this coming season thanks to the ongoing generosity of Temple Fork Outfitters (TFO) and their fly rod sales program to benefit Casting for Recovery.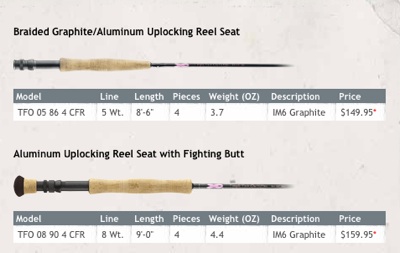 Since 2007, Temple Fork Outfitters has allocated $25 from sales of their "Recovery and Hope" fly rods to help fund new Casting for Recovery retreat programs. Thanks to sales under this program in 2009, donations from TFO helped CFR to establish retreats in South Carolina, Florida, New Mexico, and northern New York.
Lori Simon, Executive Director of Casting for Recovery, praises the continued impact Temple Fork Outfitters initiative. "Temple Fork Outfitters' support is a wonderful boost to our ability to meet the continuing increased demand for our program. Particularly during these difficult economic times, we're pleased that Casting for Recovery is able to serve women in their recovery from breast cancer by offering more retreat programs in 2010 than ever before. We are grateful for the assistance of the TFO Rod of Hope program, and for the support their dealers bring to our volunteers nationwide. It's a testament to the 'Ripple Effect' impact that Casting for Recovery's program has."
"Temple Fork Outfitters had three goals in mind when we developed this effort," said Rick Pope, President of Temple Fork Outfitters. "We wanted to design 5 and 8 weight rods that would be aesthetically appealing to both women and men fly anglers, that were affordable in price, and that would allow us to contribute $25 per rod sold to support new Casting for Recovery retreats across America. Once again, we have been successful in achieving all three goals. All of us at TFO, our reps, and our authorized dealers remain committed to work in helping support the mission of Casting for Recovery."
About Casting for Recovery
Casting for Recovery (CFR) is a national organization that supports women recovering from breast cancer through a program that combines fly-fishing, counseling, and medical education. Casting for Recovery's two-and-a-half day retreats are offered at no cost to participants, and since 1996 CFR has served more than 4,000 breast cancer survivors. Fly-fishing may appear to be the topic of the day, but helping survivors is the underlying focus of all we do.
Casting for Recovery retreat programs are offered at no cost to the participants. Numerous medical and psychosocial professionals and institutions consider Casting for Recovery one of the leading programs providing support for women with breast cancer.
Casting for Recovery is supported by generous donations from individuals, foundations, and corporations. CFR's premier national supporter is The Hartford, a Fortune 100 company that is one of the nation's largest financial services and insurance companies and a leading provider of investment products, life insurance and group benefits; automobile and homeowners products, and business property and casualty insurance; national support is also provided by Brookdale Senior Living – West Division, whose mission of enriching the lives of those they serve with compassion, respect, excellence, and integrity is the source of their strong support for CFR; and Under Armour®, a leading developer, marketer, and distributor of branded performance apparel, footwear, and accessories, whose "Power In Pink" program is an effort to help educate women about the important link between physical activity and winning the battle against breast cancer.
Casting for Recovery is a 501(c) (3) non-profit organization. To arrange for an interview with local volunteers, or for more information, call 802-362-9181. Visit our website for a complete listing of retreat locations and service areas.
Casting for Recovery
For more information:
Kate Fox 802.362.9181
3738 Main St., P.O. Box 1123
Manchester, VT 05254
About The WON

The Women's Outdoor News, aka The WON, features news, reviews and stories about women who are shooting, hunting, fishing and actively engaging in outdoor adventure. This publication is for women, by women. View all posts by The WON →