Gear Court: Stedi-Stock® Charged with Being a Super Product…Found Guilty as Charged

I was lucky enough to be able to borrow one of these handy little devices on my elk hunting trip to Utah. It was lightweight and packed easily into my luggage (although you need to leave it on the top so at the airport they can examine it since it looks like a rifle stock in the X-ray machine.) It is one slick device!
We used it while just holding the video camera in the truck, freehanded, and we also used it on our scouting walks, along with the monopod. It was amazing how much difference it made while filming, especially when you are not acclimated to the altitude yet and you are huffing and puffing while trying to film.
This super tough, hi-strength nylon device weighs a mere 6 ounces and is easily removed from the monopod to change over to the rifle rest in the blink of an eye.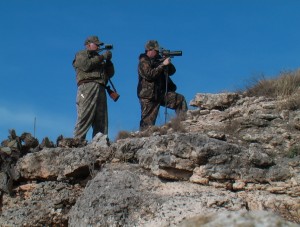 The Stedi-Stock® is a camera brace, camera stabilizer, camera shoulder stock, camera shoulder mount, camcorder brace, camcorder stabilizer, camcorder shoulder brace, camcorder stock, camcorder shoulder mount, spotting scope brace, spotting scope shoulder brace, spotting scope stabilizer, spotting scope shoulder mount and spotting scope stock. Stedi-Stock® retails for just $29.95 and is a fantastic addition for anyone that uses any kind of camera or scope.~Terri Lee Pocernich
About The WON

The Women's Outdoor News, aka The WON, features news, reviews and stories about women who are shooting, hunting, fishing and actively engaging in outdoor adventure. This publication is for women, by women. View all posts by The WON →
The Conversation