My Job … My Outdoors: Sarah Swenty combines love of hunting, wild game, duck stamps

Sarah Swenty once taught high school English in Japan and then, took those skills and worked in public relations for California Waterfowl. Just this month, you'll find her on the masthead as Associate Editor for the newly launched Cooking Wild Magazine, and because of her love for waterfowl hunting, she is Region 8 Coordinator for the 2010 Federal Duck Stamp Contest. It all seems like a smooth flow — from classroom to duck blind to working with the public to editing a food magazine. Congratulations, Sarah.
My Job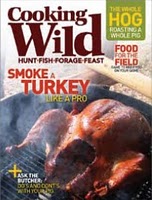 I am Associate Editor for Cooking Wild Magazine and Region 8 Coordinator for the 2010 Federal Duck Stamp Contest. Cooking Wild Magazine's first issue is due out this month and has been created to help bridge the gap from the field to the table. The 2010 Federal Duck Stamp Contest is coming out west for the first time in its history and will be held at the David Brower Center, October 15 and 16, 2010.
My Outdoors
I love the excitement of the chase, the thrill of the successful shot made, and the quiet surprises found in restful moments while on the hunt. I treasure the moments while hiking and hunting that bring me closer to understanding my place in the environment and help me connect more honestly to my friends, family, and the food we share. It is my hope that all I do working both on Cooking Wild Magazine and for the 2010 Federal Duck Stamp Contest will inspire others to reconnect with the people they love and the natural world that nurtures them.
About The WON

The Women's Outdoor News, aka The WON, features news, reviews and stories about women who are shooting, hunting, fishing and actively engaging in outdoor adventure. This publication is for women, by women. View all posts by The WON →