Babbs in the Woods: Friendly fire on the paintball range
You'd think by now I should know not to say never. I always abhorred the idea of paintball. What was the point? As I sit all covered in paint and the adrenalin continues to flow from two hours on a paintball range near Norfolk, Va., with a bunch of outdoor bloggers and Team BLACKHAWK!, I realize the benefits of pain mixed with shooting pleasure.
As part of BLACKHAWK!'s first outreach to outdoor bloggers, I have been attending a special trip intended to show us the inner sanctum and explain to us the people behind the passion of making products that exude honor as a way of life.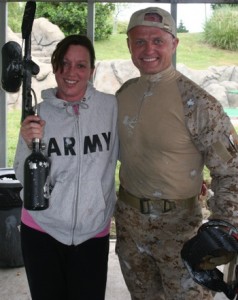 When I heard that we would be playing paintball, and that former Navy SEALS and world champion shooter Todd Jarrett would lead the teams, the pansy in me started to sprout. And, then, I decided to put on my big girl panties and play along. And, now, I see the reason for using paintball training. I know how I might react under pressure, and I know that I should always identify my target and not hit the team leader in the crotch and two chest shots.
It went down like this: the second round and we'd already captured the flag on the first round. Mato said we'd send big Jim Braaten from Minnesota in to get the flag and that we would need to cover for him. So we advanced, and out of the corner of my eye came this figure in camo, just like Mato had on but it couldn't be Mato, it must be that other SEAL, Steve Rose, and he was already over here and going to nail me. So I turned on Steve, but it was Mato and as you can tell, at about 15 feet, it was not pleasant for him. He called out, "Barb, Barb, it's me, Mato!" And, then I realized what friendly fire was all about and about how I needed to really identify the target.
Friendly fire. Paintball. Camaraderie. Can hardly wait to do it again.
About Barbara Baird

Publisher/Editor Barbara Baird is a freelance writer in hunting, shooting and outdoor markets. Her bylines are found at several top hunting and shooting publications. She also is a travel writer, and you can follow her at https://www.ozarkian.com. View all posts by Barbara Baird →
The Conversation