Babbs in the Woods: Her turkeys must have checked in at the Travelodge

It was like someone hung out a sign at a singles club that read "Married people welcome and their drinks are free." That's how the turkey woods seemed this weekend. All the gobblers and hens weren't socializing with any new single turkey babes, like my wannabe hen.
All I got from another two days in t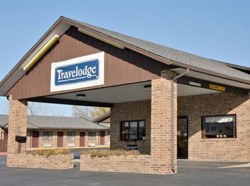 he turkey woods was another case of chiggers and a case number at the Travelodge.
Last Friday, my husband's business trip fell apart, so we packed quickly and headed out to the turkey woods near Mountain Grove, Missouri – a two-hotel town. I'd already stayed at one of the places, a Days Inn, and it has beds. So, I hurriedly made reservations at the Travelodge online and got a discount for about $55 per night plus tax.
Three hours later, we appeared in the lobby of the Travelodge and there were no reservations for us and the rate quoted was higher and well, I just decided to go back to the other place for the night. Then, I remembered about those Internet specials and called the Travelodge central reservation number to make sure they cancelled my room and spoke to someone in India and got referred to a specialist in China who told me I'd have to speak to someone else – probably in Timbuktu – who gave me a case number.
Babbs: I wanted to check in, but you had no record of my online reservation.

TL: I'm sorry for your inconvenience. It should have been on a computer.

Babbs: That hotel doesn't have a computer. It has a fax machine that hadn't caught up with your computerized reservation system.

TL: I'm terribly sorry to hear about that inconvenience, ma'am. We'll have to give you a case number, because if you make an online reservation, we cannot cancel it for any reason.

Babbs: Yeah, but I made the reservation but you guys didn't have it in your records when I showed up. So, how can I be obligated for something that never occurred?

TL: I'm sorry that this happened to you. We'll give you a case number and I'll start checking into the process to see what happened.

Babbs: Well, I'm not paying for a room I never had.

TL: I'm sorry. Have a nice evening.
Now, I'm wondering … will I get a Travelodge public defender to handle my case when it goes on trial at Travelodge? Or will I just get a note in the mail reading, "We're sorry, but our records show that you reserved a room online at the Internet rate of $$ and you cannot cancel so you owe us $$$."
Babbs: I'm sorry, TL, I ain't paying.
Oh, and the turkey woods? One gobble in 12 hours of hunting does not excite this hunter, so I figure the mating season was over and someone forgot to hang out the shingle that read, "This singles club now caters only to married people." I think I wore one striker down to the size of my grade school standardized test pencil after the third day of tests.
So there you have it … I'm a turkeyless, chigger-bitten, downtrodden, feeling-chewed-up- and-spit-out hunter with no patience for a caseload of Travelodge trauma this week.~Barbara Baird
Twitter: http://twitter.com/babbsbaird
Facebook: http://facebook.com/babbsthewon
About Barbara Baird

Publisher/Editor Barbara Baird is a freelance writer in hunting, shooting and outdoor markets. Her bylines are found at several top hunting and shooting publications. She also is a travel writer, and you can follow her at https://www.ozarkian.com. View all posts by Barbara Baird →
The Conversation