Babbs in the Woods: The 'Kool' factor
I'm going to call it Konway Kool Factor. This outdoor photographer's got it, and it comes through in his work.
I recently received a text message from Bill Konway as I sat in my blind on the last day of turkey season. He wrote that he was in Missouri and asked me where I was at that time. It happened that I was about 60 miles away from him and he had to pass by our place in order to get home to Illinois where he lives.
So, he stopped in, and I had the opportunity to view his office on wheels – camouflaged Toyota Tundra. But, and I think this speaks volumes, the truck is blue with Realtree camo on it – not green or brown or black. That's just like Bill. Cool.
He had been on the road for at least four weeks, photographing outdoor events and Nashville country singers and was looking forward to going home because his son will be graduating from high school soon and he has to get the deck finished for the party.
You should check out his photo blog, and you can see how he takes the Kool factor and applies it to people (and dogs) in the outdoors. And, oh, he gave himself that "Konway Kool" touch in this self-portrait he sent – upon my request – of him and his truck. And, in his typical mild-mannered fashion, he relates the experience of "shooting himself" on a country road and you can read whether he would do it again! ~Barbara Baird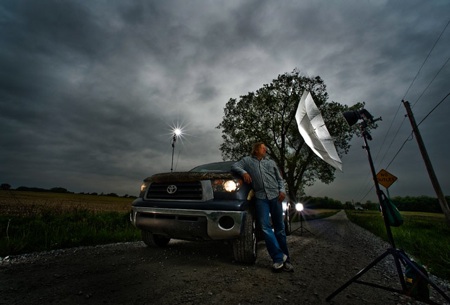 About The WON

The Women's Outdoor News, aka The WON, features news, reviews and stories about women who are shooting, hunting, fishing and actively engaging in outdoor adventure. This publication is for women, by women. View all posts by The WON →
The Conversation