Babbs in the Woods: Wild about Walgreens and Waffle House
Sometimes I think I have the best of both writing worlds. I write for outdoor and travel markets and sometimes I combine the two. When I travel to a new town, I look for two businesses – Waffle House and Walgreens.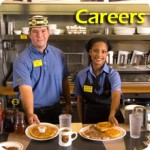 In both the travel and outdoor markets, you need a good cup of coffee as soon as you sit down and you get that at a Waffle House. What you also get is a dose of the locals, especially if you sit at the counter. You can ask the fry cook, who might also be your waitress and the cashier, too, where to find a shooting range, or outlet mall, or whatever you're looking for … and if she doesn't know, she'll ask someone or someone else at the counter will know. And then, there's the opportunity to listen to the local dialect and learn what's happening in that town.
As for the Walgreens' recommendation I'm about to launch here, that happened because I had strayed from Walgreens, preferring my little town's pharmacy as opposed to the big box chain stores. Then recently a Walgreens set up shop on the main drag in our town. It looked like the Walgreens of the 1970s, because the chain hasn't changed its appearance. So, at first, I associated Walgreens with mountain-high strawberry pie that my little sister served up behind the counter there in Sioux Falls when we were in high school.
I went in to get a flu shot last year and got hooked. And here's the reason why – at Walgreens, you can buy a cosmetic or suntan lotion or lip gloss and if you don't like it, you may bring it back with no hassle and no questions asked. I like that type of guarantee. For someone like me, that means poison ivy gels and anti-itch creams can be returned if they just don't work. Also, Walgreens runs these awesome "buy one, get one half-price" deals on cosmetics and lotions and creams that you just don't see at the W and K places.
And, one other thing — it doesn't have a dirty elementary school smell about it like some of those big box places get.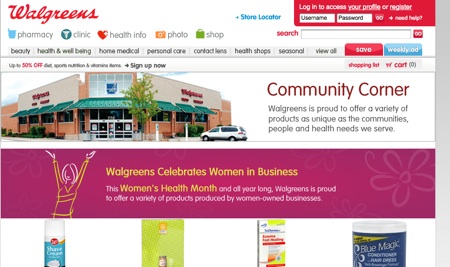 One thing I recently learned about Walgreens that makes me want to shop there even more is that it features women-owned businesses and the products from these businesses in its "Community Corner" page. See http://www.walgreens.com/topic/promotion/wbus.jsp And you thought enemas had to be made by a man's company? Or medicated tar shampoo or "Blue Conditioner" hair dress?
It's all about the branding, isn't it? It feels a little like home to me when I'm on the road and want breakfast any time of the day or need to get yet another tube of anti-itch cream.
How about you? What types of businesses do you frequent when you travel? ~Barbara Baird
About Barbara Baird

Publisher/Editor Barbara Baird is a freelance writer in hunting, shooting and outdoor markets. Her bylines are found at several top hunting and shooting publications. She also is a travel writer, and you can follow her at https://www.ozarkian.com. View all posts by Barbara Baird →
The Conversation