Guru Huntress: She's out there … you can be, too!

Good, clean fun is the purest of enjoyment when shared among friends. Add to that the sharing of a new experience and it doesn't get any better than that. Over the last three years I have been fortunate enough to experience many new things in the outdoors – usually about the environment or animals, but often, about myself.
I find it ironic that dealing with some of the simplest lessons taught in the woods makes it so much easier to cope with the most complex lessons in life. A scouting trip, a shed hunt, a walk to change the card in a deer camera, a hunting trip with a significant other or good friends all bring a certain joy to time spent in the outdoors.
I have met some outstanding women and formed some lasting friendships through hunts I have coordinated and/or attended. Sharing stories and time with women in an environment where you can be comfortable without an ounce of makeup or a single product in your hair (of course, lipstick or tinted lip balm is optional). These hunts have made many lasting memories and great new friendships.
Often it is hard to find other women in your community or close by that you can team up with for attending hunts or outdoor events. There may be women who do not feel that they can step out of their comfort zone and attend a hunt outside of their normal hunting group because they feel extremely nervous attending an event on their own. It may be from the anxiety of being with strangers, traveling alone or being in an unknown place. I have even heard women say they felt they did not have the confidence or skill level to be independent on a hunt. Actually, I think I have heard just about every excuse or reason that there is.
When I first started this journey, not only was I inexperienced to this sport, I did not know a single woman that participated in hunting or shooting sports. I went to the Internet to seek local events that I could attend. I found several entry level events that were geared toward teaching women how to use a gun, bow, and even skills for hunting and navigating in the woods. I remember my very first event like it was yesterday. I loaded up my truck and drove off to the event that was three hours away: ALONE. My anxiety could not hold a candle to the excitement in me for the thought of learning something new – and that meant shooting a gun and bow. I couldn't wait to smell that first spent shotgun shell or release that first arrow.
That event only lit a fire in me and I yearned to learn and do more. Still not having a female friend to tag along, it did not take long for me to realize that if I really wanted to be involved in the outdoor world, I would have to lay my anxiety and fears down and trudge forward. After an entire year of seeking out events and loading up the truck and driving to places as far as seven hours from home, I was ready for the next level and that was unguided hunts. The entry level events laid down the foundation of good woodsmanship and the proper skills for shooting a shotgun, rifle and bow; it was time to put them to use. Finding women's hunts was a little harder to do, but I was still able to find them through networking. I truly had no boundaries with driving and flying to places like Wyoming, North Carolina, Tennessee and Georgia, usually by myself.
Every woman has that opportunity to step out of the box and experience shooting sports or hunting with no limitations. All it takes is that first step to build confidence that has no boundaries. More importantly, if you are a woman that is already seasoned in the sport of hunting, it is important that you encourage other women to participate. There is no better feeling than to be a mentor and to share a person's first experience in hunting, harvesting game, breaking that first clay, a first bull's eye in archery or catching that first fish. I have seen women grow through these events not only in confidence but also in character; becoming stronger women.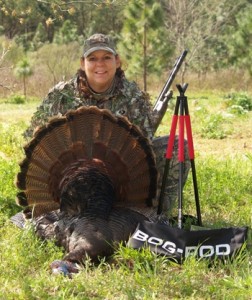 Every hunt that I have been a part of has been special in some way or another. This past weekend was a prime example of that. I coordinated a Rio Grande turkey hunt in Okemah, Oklahoma. This was a phenomenal group of women ranging from new to veteran hunters. Each person brought her strengths to the group and shared tips and stories with one another and encouraged each other. There existed a bond among this group that was evident from all the laughter and support each shared and more evident that new friendships were made. Most of the participants had hunted together earlier in the year at a hog hunt that I coordinated and I am sure there will be many more hunts they will share together.
There are many groups, some old and some new, that can be researched through the Internet where you can find events and hunts. A few of those are Becoming an Outdoors-Woman (BOW), Women in the Outdoors (WITO), Camp Wild Girls, Woman Hunter Magazine, Babes with Bullets and National Rifle Association. You can also check with your state's department of wildlife agency and the Women's Outdoor News websites for events.
If you have wanted to attend an event or hunt but have had reservations for one reason or another, I want to encourage you to make that commitment. You will find that there is no better way to spend your time learning something new, spending time in the outdoors and building friendships and memories along the way. So get up, get out, set no limits on yourself and live life with no boundaries. ~Nancy Jo Adams
Resources:
Shenanigans From the Field (Nancy Jo Adams' blog)
Becoming an Outdoors-Woman (BOW)
About The WON

The Women's Outdoor News, aka The WON, features news, reviews and stories about women who are shooting, hunting, fishing and actively engaging in outdoor adventure. This publication is for women, by women. View all posts by The WON →
The Conversation