Introducing the new-for-2010 ladies "Your Treestand or Mine" 2-fer shirt from Buck Wear®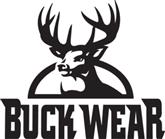 The experts at Buck Wear® design each item in their sportswear apparel line with clever messaging and trendy designs exclusively for men and women who wish to showcase their passion for the hunting and outdoor lifestyle. And the company's latest offering for serious (yet, not so serious) female hunters is no exception to this legacy — introducing the new-for-2010 ladies "Your Treestand or Mine" 2-fer shirt.
For years, Buck Wear has celebrated fearless women hunters with its line of modern apparel. And now, women who can tackle even the biggest and baddest whitetails alongside the most hardcore male hunters can enjoy another brand new edgy style from Buck Wear whether at home, around camp or around town. With its playfully suggestive slogan "Your Treestand or Mine," this attractive, fashion-forward short sleeve shirt, with long sleeve sewn in (Model #1799), is sure to connect with women hunters everywhere.
Women will not only love the style, they'll dig the fit too, as it's designed expressly to fit the female form. Its blended pink and Realtree® AP HD® camo long sleeves compliment its cap-sleeved dark brown top layer — making it a perfect backdrop for the romantic treestand setting featured front and center.
Buck Wear's commitment to quality shines through, from its 100 percent pre-shrunk cotton construction to the premier screen-printing process that ensures that this long sleeve shirt will keep you warm while looking cool — even after repeated wears and washes. And, like all Buck Wear apparel, the "Your Treestand or Mine" shirt comes in a wide range of adult women's sizes from S to XL, so it's a perfect fit for any die-hard or aspirational huntress out there.
For more information on the new Buck Wear ladies "Your Treestand or Mine" 2-fer shirt (Model #1799) or Buck Wear's full selection of t-shirts, sweatshirts and caps for outdoor enthusiasts, please contact: Buck Wear, Inc., 2900 Cowan Avenue, Baltimore, MD 21223 · Telephone: (800) 813-7708 · Or visit www.buckwear.com.
Editor's Note: For hi-res images and releases, please visit our online Press Room at www.full-throttlecommunications.com.
About The WON

The Women's Outdoor News, aka The WON, features news, reviews and stories about women who are shooting, hunting, fishing and actively engaging in outdoor adventure. This publication is for women, by women. View all posts by The WON →