Julie Golob wins 10th USPSA National Shooting Title
SEDRO-WOOLLEY, Wash. — Glasgow, Montana's Julie Golob won the Women's title at the U.S. Practical Shooting Association's (USPSA) Single Stack National Championship, and in doing so claimed her tenth national shooting title within USPSA.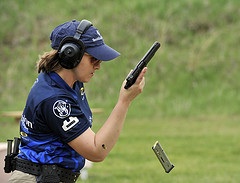 "I'm very excited to have won my tenth USPSA national title, especially after taking the time off to have a baby and not knowing how that might impact my ability to perform at a championship level. It's a great honor to have reached this point in my competitive shooting career," said Golob.
"With this win Julie joins an elite group of USPSA members who have ten or more national titles. Her victory is a testament to her dedication to the sport and I congratulate her on reaching this important shooting sports milestone," said Michael Voigt, USPSA president.
Despite competing with a brand new gun, the captain of Team Smith & Wesson took her tenth title in a dominating performance, winning seven of the 16 stages and holding the lead for most of the match. Her final score of 812.9764 outpaced her nearest competitor by more than 28 points.
"This was by far the best Single Stack Nationals I've shot," explained the 32 year old Golob. "The course design and target presentations tested every skill a shooter needs in competition making this an exciting match to compete in."
Golob, who began her competitive shooting career at the age of 14, wasn't concerned about competing with a new gun she'd only just received and shot once in competition at the USPSA Area 6 Regional Handgun Championship.
"I started out shooting 1911s, and these days guns are manufactured to a very high standard so I wasn't worried about my equipment going into this match. I was confident in my gun so I could focus more on my shooting," added Golob.
Coming in second behind Golob was Sara Dunivin, an officer in the Phoenix Police Department. Dunivin is the only other shooter to hold the lead in the match, taking it from Golob on the seventh stage only to relinquish it on the twelfth. Dunivin finished with a final score of 784.3796.
Third place went to Kippi Leatham of Mesa Ariz. who won two stages in the match and posted a final score of 749.5983.
Nancy Huspek of St. Paul, Minn. not only placed fourth by winning three stages and finishing with 745.3855 points, but also pulled double duty working as a range officer helping to officiate the match.
Fifth place among the women went to 15 year old junior shooter Tori Nonaka of Woodbridge, Va. Nonaka won three stages on her way to posting a final score of 736.9316, which may have placed her fifth with the women but earned her the Junior Single Stack National Championship title.
The 2010 USPSA Single Stack National Championship was held April 29 through May 1 at PASA Park in Barry, Ill. and was sponsored by Illinois-based firearms maker Springfield Armory. The match drew more than 270 top 1911 competition shooters.
The Single Stack National Championship was established in 1994 as the Single Stack Classic by pistolsmith Richard Heinie, and then USPSA Illinois Section Coordinator, Russell Cluver. The match was designed specifically for the 1911 model pistol and no other pistol design is permitted in the competition.
In 2006, USPSA designated the popular match as a national championship. The term single stack refers specifically to magazine used in the 1911 pistol which holds just a single column of ammunition. Today the 1911 is one of the most popular firearms sold in America and the Single Stack National Championship is the preeminent showcase for the venerable pistol.
– 30 –
Note to Editors: A high resolution image of Julie Golob is available for download from the USPSA Flickr page.
About USPSA: The United States Practical Shooting Association (USPSA) is a non-profit membership association and the national governing body for the sport of Practical Shooting in America. USPSA has over 19,000 members and more than 350 affiliated clubs which host weekly matches throughout the country providing recreational shooters with the opportunity to test and refine their shooting skills in a safe, competitive environment. USPSA is also the U.S. Region of the International Practical Shooting Confederation (IPSC), which is comprised of approximately 67 nations.
As a member of the outdoor press you are receiving this latest news from the U.S. Practical Shooting Association.
Unsubscribe babbs@womensoutdoornews.com from this list | Forward to a friend | Update your profile
Media Contact: Dave Thomas dave@uspsa.org or (360) 855-2245
U.S. Practical Shooting Association
702 Metcalf Street
Suite A
Sedro-Woolley, WA 98284
Add us to your address book
Copyright (C) 2010 U.S. Practical Shooting Association All rights reserved.
About The WON

The Women's Outdoor News, aka The WON, features news, reviews and stories about women who are shooting, hunting, fishing and actively engaging in outdoor adventure. This publication is for women, by women. View all posts by The WON →