Kay Miculek wins USPSA Area 4 Handgun Championship
SEDRO-WOOLLEY, Wash. — Kay Miculek of Princeton, La. came from behind on the final stage of the match to edge out Athena Lee of Katy, Texas and win the Lady's Open division title at the at the U.S. Practical Shooting Association's (USPSA) 2010 Area 4 Handgun Championship sponsored by firearms maker STI International.
In what would be the closest contest of the six division handgun championship, Lee started the match in first place after winning stage one, but then fell behind Lisa Munson of Marysville, Wash. who won the next two stages.
However it was on stage four that the match turned in Miculek's favor.
After winning the fourth stage Miculek jumped to the head of the pack giving herself a 37 point lead over Lee. Over the next six stages Miculek held the lead while Lee chipped away at it with four stage wins to Miculek's one.
On stage 11 Lee finally overtook Miculek by a mere 1.4943 points after winning the stage and heading to a showdown on the last stage of the match.
With the title on the line, Miculek posted a stage winning score of 116.0282 to Lee's 113.3370 giving her a 2.6912 point advantage that was enough to outpace Lee for the win.
Miculek finished the match with a final score of 1064.6003, just 1.1969 points over Lee's 1063.4034.
"The one match to watch at the Area 4 Championship was the battle for the Lady's Open title. Both Kay and Athena are exceptional shooters and fierce competitors as evidenced by the nail-biter of a finish. Congratulations go to both women on an outstanding shooter performance," said Michael Voigt, president of USPSA.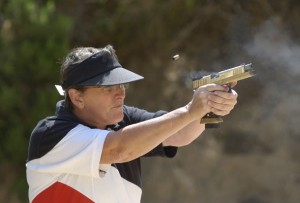 Third place in the women's race went to Cameron's Custom Guns' Lisa Munson who won a total of three stages but finished well out of first with 950.3120. Fourth place went to Sue VanBlaricum of Lafayette, Tenn. with a score of 735.5503.
The STI Area 4 Handgun Championship was held at the Shootout Range in Princeton, La. The match drew 230 top shooters from Arkansas, Louisiana, Oklahoma and Texas, the four states that make up Area 4, as well as Arizona, California, Georgia, Idaho, Illinois, Kentucky, Michigan, Minnesota, Mississippi, Missouri, Ohio, Wisconsin and Canada.
The next regional championship on the practical shooting calendar is the Canyon Creek Area 5 Championship scheduled for June 10-13 at the Tri County Gun Club in Polo, Ill. For more information on USPSA, upcoming matches and full match results, visit www.USPSA.org.
About The WON

The Women's Outdoor News, aka The WON, features news, reviews and stories about women who are shooting, hunting, fishing and actively engaging in outdoor adventure. This publication is for women, by women. View all posts by The WON →
The Conversation