My Job … My Outdoors: Mia Anstine — enjoying the view from the top of the mountain

For Mia Anstine, the harder she works, the harder she plays … or so it seems. As the wife of an outfitter in Pagosa Springs, Colo., Mia does a lot more than answer the phone and cook meals. Read about her job and her outdoors and family life and how she gets a great balance going.
My Job
I work part time in sales for an employee-owned lumber company. I am on the board of directors for our local builders association. It is my job to coordinate education opportunities and speakers for them. I help my husband with his outfitting business, doing book work, scouting, trail cleaning and setting camps. I am also a mother of an aspiring eleven-year-old daughter who I feel needs to know the roots of where we all come from and the outdoors.
My Outdoors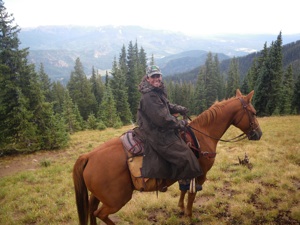 In my spare time I enjoy the outdoors. Being the wife of an outfitter (Wolf Creek Outfitters, Inc.), I feel blessed to be in the position to take advantage of the outside any chance I get. I spend a lot of my time riding my horse and scouting. Hank (my husband), Lea (my daughter), and I scout the areas around our camps as well as explore new country. Last summer my trusted horse took me to the top of some of the mountains I had only dreamt of climbing. It is amazing to me to be on top of the world looking at all the beautiful country around us.
In the summer, I have fun at our camps and doing pack trips. We enjoy our outfitter camp and bringing groups up to it. My husband taught me how to fly fish, and it has since become a summer addiction in addition to the traditional bait casting that we do when we can get to the lake. Most of the time is spent in the high mountains, so I bring my fly rod along and truly love to hike the streams and cast my way up to our destination. It is treasured out door time!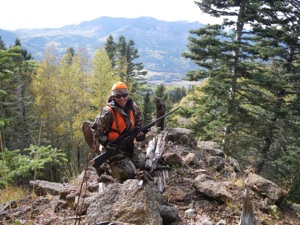 I take a lot of photos on our outdoor excursions. I do what ever I can to share the vast beauty of the outside with friends and family. I share tales through my blog about my outdoor adventures. I like to bring people along when I can, but some can not make the trips. There is no picture in the world that can do justice to the true view, in person, in the outdoors. Sometimes my tales help do the trick and they can be a part of it. I feel everyone should get to see the views from the tops of the mountains or the bottoms of the valleys. They are truly inspiring and there is nothing that can compare.
After the summer is over, the scouting is done and the camps are set, hunting season begins. This is the time that I take out and chase some wild animals. I put in for my hunting tags in the spring, just before the turkey hunting. Among the hunts I enjoy are mule deer bucks, brown bear, cow and bull elk. There is nothing that compares to a bull elk in the rut snorting at you trying to figure out what you are. I have also been applying for Rocky Mountain Big Horn Sheep, Shiras Moose and mountain goat. I have not drawn those tags yet, but I am looking forward to the day. If I am not hunting, and I can get the time away, I always like to go help on other hunts. Each year I take various kids on their hunts, as well as a friend's grandfather. I accompanied my husband on his moose hunt, which was the hunt of a lifetime, and I look forward to the day that I have mine.
Once the fall hunts are done, it is winter and time for a short break for us which includes a lot of snowmobiling in the high mountains. I like to ride deep powder days and climb tough trails and get to destinations no one else can attain in that kind of snow. The break from hunting does not last long before the lion hunting season begins, and then into spring turkey hunting again, and the cycle continues, and so does my time – in the outdoors. See Mia's blog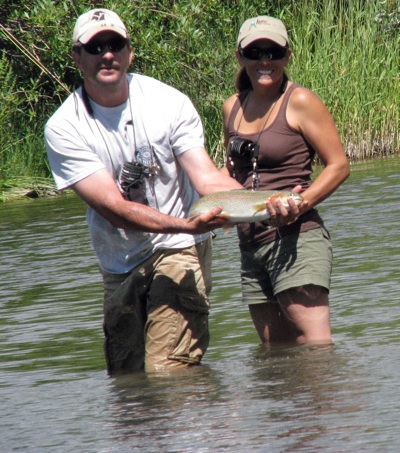 About The WON

The Women's Outdoor News, aka The WON, features news, reviews and stories about women who are shooting, hunting, fishing and actively engaging in outdoor adventure. This publication is for women, by women. View all posts by The WON →
The Conversation